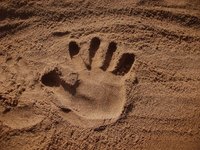 Plaster of Paris handprints make thoughtful, personalized gifts for parents and grandparents alike. You can purchase handprint-making kits from a craft store to make your own plaster of Paris handprints, but these kits can be expensive. The other option is to make your own using plaster of Paris and a disposable pie plate.
Things You'll Need
Plaster of Paris
Disposable pie plate
Warm water
Soap
Drinking straw
Paint
Yarn
Mix the plaster of Paris according to package instructions. Mix enough to fill the inside of a disposable pie plate. The prepared plaster of Paris should have a thick consistency that is sticky to the touch.
Pour the mixed plaster of Paris into a disposable pie plate. You want a minimum of three-quarters of an inch in the bottom of the pan.
Press your hand, or your child's hand, into the center of the pie plate, firmly enough to leave an impression but not so deeply it goes through to the bottom of the pie plate. Remove the hand from the plaster of Paris and wash it thoroughly under warm running water using soap. Although plaster of Paris is safe, prolonged exposure can irritate the skin and cause a burning sensation, especially if the skin is question is sensitive.
Allow the plaster of Paris to dry for 20 minutes. Press the end of a drinking straw into the top center of it. This will leave a hole when it dries so you have a way to hang your finished project.
Allow the plaster of Paris to dry for a full 24 hours. Remove the drinking straw.
Decorate the dried handprint. You can paint the entire thing solid colors or add designs to it. Include your name (or your child's name) and the date on the mold somewhere so you can remember when it was made.
Insert a piece of yarn through the hole the drinking straw left and tie the ends together. Use the yarn to hang your finished handprint.