Things You'll Need
2 large 3-foot by 4-foot pieces of cardboard

2 yards brown felt

1 yard white felt

Tape measure

White glue

Scissors

Silver duct tape

Brown pants, shirt and shoes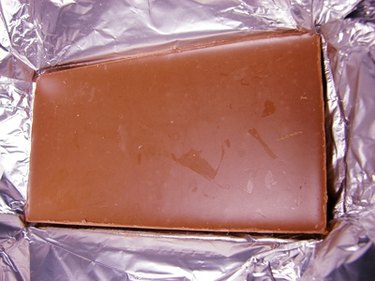 Almost everyone loves a Hershey bar, so going out trick-or-treating or to a costume party as a chocolate bar is sure to be a hit. Making a Hershey bar costume is cheap and easy, using cardboard, felt and shiny silver duct tape to recreate a foil-wrapped, traditional Hershey bar. Add a brown felt wrapper with Hershey's trademark block white letters and you will have the most delicious costume of the day.
Candy Bar
Step 1
Cut your cardboard into two large, candy bar-shaped rectangles. They should be large enough to fit from your chin to your knees and a little wider than your body.
Step 2
Wrap the top and bottom 6 inches of each piece in foil and secure with tape.
Step 3
Tape the sides of the two cardboard rectangles together from bottom corners to 12 inches from the top.
Step 4
Tape cardboard pieces together at the top, leaving a 12-inch gap in the middle for your head.
Step 5
Try it on. Make sure you can pull it easily over your head and that your arms fit through the gaps at the top corners. Make adjustments.
Wrapper
Step 1
Measure about 3 inches from the top of candy bar to about 3 inches from the bottom. Measure across the candy bar. Double this plus 2 inches. Cut your brown felt these measurements.
Step 2
Wrap the felt around the candy bar from front to back. Glue one edge of the felt to the middle of the back, leaving 3 inches of foil at the top and the bottom. Pull the other edge of felt over the first edge and glue down.
Step 3
Cut a slit in the felt over armholes. Glue cut edges of felt to edge of cardboard.
Step 4
Flip back to front. Cut the letters for your label out of the white felt. Arrange them on the brown felt. When you have them the way you want them, glue them down. Allow glue to dry overnight.
Step 5
Put on your brown pants, shirt and shoes and slip into your candy bar.