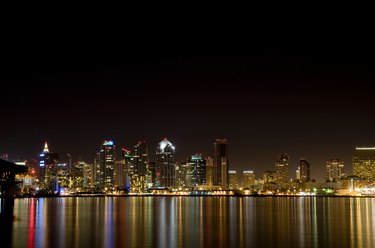 San Diego has become a world-class destination year 'round -- and for good reason -- but it has a special magic at Christmas time. Don't shovel snow -- come and enjoy a warmer climate where you can wear shorts and go to the beach for the holidays. If you find yourself in the city on Christmas Eve, there are plenty of ways to celebrate both indoors and out, with fun, comfort and joy for all ages.
Dining During Christmas in San Diego
Celebrate the day in style with a feast at one of the many fine eateries in San Diego. Most restaurants are open in San Diego on Christmas Eve. The website SanDiegoRestaurants.com has a directory of all area restaurants, with a section on those featuring Christmas Eve specials. For a spectacular view, try a site like Island Prime which sits on stilts over the waters of San Diego Bay, with views of the downtown skyline and bay. If the bar scene is more your style, favorites spots like the Whistle Stop Bar and The Tavern at the Beach are open late for party-goers.
Christmas Eve Playhouse Performances
The "play's the thing" for many San Diego theaters which offer performances on Christmas Eve. The Thornton Winery has a traditional feast and celebration including "An American Christmas," performed by the Lamb's Players Theatre. The Old Globe presents its annual production of Dr. Seuss' "How the Grinch Stole Christmas" and there are many others which change from year to year. Check Sandiegoplaybill.com to choose from current offerings.
Among the many other things to do in San Diego on Christmas Eve, the Hotel Coronado is a destination until itself. This venue features Santa's surrey-sleigh rides through Coronado Island, cookie decorating, holiday crafts for kids, Tent City Kids' Camp with holiday scavenger hunts and family s'mores roasts for guests of the hotel. The public is also invited to take part in Victorian tea, ice skating, holiday displays and theater productions.
For the curious-minded, visit the Reuben H. Fleet Science Center, open 365 days a year, with a planetarium, IMAX theater and exhibits.
Christmas Eve Church Services
For the observant, there are dozens of churches with Christmas Eve services to choose from. Check out a site like Sandiegochurches.org for more information.
Try your hand and feet at ice skating in downtown San Diego at the outdoor seasonal rink at Horton Square, where the city is decorated with holiday cheer. Reserve a spot on the Hornblower River Cruise Ship which offers a traditional Christmas Eve holiday buffet and Build-Your-Own-Ornament Station. Check out the brilliant Christmas lights on Knob Hill, with over 80,000 Christmas lights, hundreds of lighted outdoor figures and thousands of feet of electrical wiring.
Balboa Park and San Diego Zoo
For a destination which has a little bit of everything, plan a trip to Balboa Park, which combines both indoor and outdoor activities. It's home to the San Diego Zoo, open on Christmas Eve, eight gardens, an outdoor carousel and miniature railroad, the House of Pacific Relations International Cottages which hosts the International Christmas Festival, hiking trails and picnic areas.