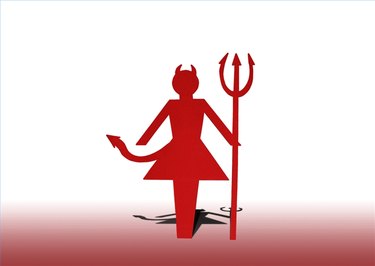 Designing a homemade devil costume provides parents with an easy and inexpensive Halloween costume. Consider a homemade devil outfit when you're short on time and need a costume in a pinch. Many of the supplies can be found around the house or think about some creative alternatives. Use a red clothing as a costume base, or wear black to make the red devil items stand out more.
Devil's Horns
Design one of the most important elements to a devil costume -- the devil's horns. Purchase a plastic headband and a pair of rubber gloves. Grab some cotton balls, red glitter and glue to complete the devil's horns. Cut two fingers from the rubber gloves and stuff with cotton balls to make them stiff. Hold them in place to ensure they are the correct size before gluing and glittering. Cover the entire finger tip with glue and red glitter. Dry completely. Use hot glue to attach the devil's horns to the headband. Consider marking with a pencil or permanent marker where the horns should be placed so they are glued in the correct spots. Hold in place until the glue is dry.
Devil's Pitchfork
Consider several designs for a devil's pitchfork. Find a large cardboard box or poster board and draw a pitchfork design. Allow kids to paint, color or cover the pitchfork in glitter. These are quick designs and light to carry. Another idea for making a devil's pitchfork is to cut two pieces of red felt into a pitchfork shape. Use felt glue to seal the edges, leaving the bottom open. Allow the glue to dry and stuff the pitchfork with cotton balls. Paint a gift-wrap tube, broomstick or wooden dowel red and place in the bottom of the pitchfork. Seal the bottom of the felt with the glue. Dust the felt with glitter, if desired.
Devil's Tail
Complete the homemade devil costume with a tail. Cut a strip of red felt about 4 inches wide and the desired length of the tail. Fold the felt in half lengthwise and use felt glue to attach the two long edges. Allow the glue to dry and turn the tail inside out. Cut two triangles, about 3 inches wide, from another piece of red felt. Glue the triangles together over one end of the tail. Straighten a metal hanger and push through the tail. This allows the tail to be shaped. Stuff the tail lightly with cotton balls, if needed. Seal the other end with felt glue and use safety pins to attach to the devil's clothing.