Things You'll Need
100 grams worsted-weight yarn

16-inch long circular needles, U.S. size 7

5 double-pointed needles, U.S. size 7

Ring markers

Tape measure

Scissors

Tapestry needle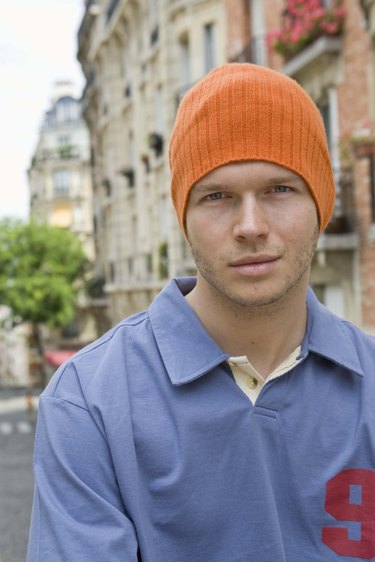 The watch cap received its name for the style of hat worn by naval personnel while on watch. These warm hats fit snugly and often have enough length to turn up a few inches at the bottom to keep ears extra warm. Many knitters like knitting watch caps because they are quick projects that require a small amount of yarn. Government-issue watch caps were generally in dark blue or black, but you can knit one in any color. A watch cap is an easy beginning project for knitters who can knit, purl, cast on and knit in the round.
Step 1
Cast 80 stitches onto the circular needle. Make sure the stitches are not twisted around the needles, and join the stitches into a round. Add a ring marker to mark the beginning of the round.
Step 2
Knit one stitch, purl one stitch. Repeat this ribbing pattern for the round.
Step 3
Repeat the ribbing pattern for 7 inches.
Step 4
Knit in the ribbing pattern for 20 stitches and place a ring marker. Repeat for the round. You now have four markers, with 20 stitches between each marker.
Step 5
Knit in pattern to the first marker. Slip the marker and knit the next two stitches together through the back loops. Repeat this pattern for the round, decreasing after every marker. This is a decrease round.
Step 6
Repeat the decrease round until you have four stitches between each marker, or 12 stitches. When you have too few stitches to reach around the circular needle, change to the double-pointed needles to avoid stretching out the top of the cap.
Step 7
Knit one round with no decreases.
Step 8
Cut the yarn, leaving a 20-inch tail.
Step 9
Thread the tapestry needle with the yarn. Guide the needle through the remaining 12 stitches, removing the double-pointed needles as you go.
Step 10
Pull the yarn up tightly to close up the top.
Step 11
Weave in the ends and wash the cap in warm water. Let the cap dry for 24 hours.
Tip
Gauge for this project is four stitches per inch in the ribbed pattern. Adjust the size of the knitting needle if needed to get this gauge. This hat will fit most average head sizes. The ribbing is very stretchy.