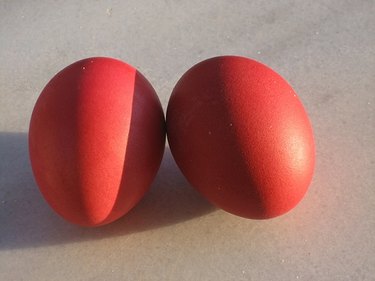 Easter isn't always a holiday that we associate with romance and sexiness, but you can also spice up your love life by exploring the fun of a sexy Easter egg hunt. With a few plastic eggs and some creativity, you can easily transform the way your significant other feels about this holiday; it's not just for the kids anymore.
The Bunny
The Easter bunny is one of the most popular symbols of this holiday. For some sexy fun, escort your gentleman to his Easter egg hunt dressed as your own version of a "bunny." Wear a brightly colored (Easter colors work well) tank top or bra top, with small black shorts over black stockings. Put on your best matching high heels in the same color, or black. Add a pair of ears and a small tail and you'll be ready to go. For pre-made costumes, check out the references section.
The Hunt
Get your hands on some plastic Easter eggs, with separate top and bottom halves. Write up naughty clues to have an intimate hunt through the house. Play "Truth or Dare" by putting two slips of paper inside each egg, one with a truth and one with a dare; this works well if you don't want to hide clues, but rather, have an egg hunt culminating in a fun and sexy game. Incorporate as much territory as you can. You can also fill the eggs with intimate memories, leading your loved one out of bed and down memory lane and through the house, to where you wait.
Some small objects, like blindfolds, erotic dice and panties, fit inside these plastic eggs. Make the clues easy to follow and plan a surprise ending. Be waiting in a costume, with flowers, breakfast, or anything else your partner might desire.