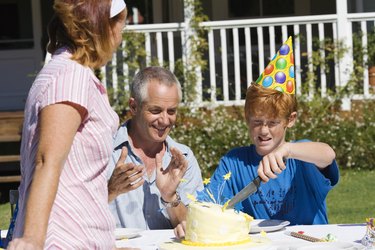 Since they are not yet teenagers, and no longer a small child, 11 is an age that may be tricky for determining a creative party idea for a boy. By the age 11, however, most boys are accustomed to high energy activities such as sports or games at school. Here are a few high energy ideas for an 11year old boy's birthday party.
Indoor/Outdoor Murder Mystery Scavenger Hunt
Set up your living room or basement to resemble a crime scene. Plant clues around the house and yard that help the players answer "whodunnit." When the players get stuck, select a tie breaker game such as finding a safety pin in a bowl of rice. You could also incorporate timed challenges such as finding two houses with red doors in the neighborhood and taking a picture with the child posing like a soldier in front of them.
The important rule in this game is to keep the clues sequential. Each clue should lead to the next clue and get the children closer to solving the mystery in the end. This also helps to maintain a high energy level and interest in the game. Present a prize to the winning player or team.
Laser Tag Party
Laser tag, when played according to the rules, is a safe, fun way for all children to engage in the party. Set up your backyard with obstacles for the players to hide behind. Divide the children into two or three teams and let them battle with the laser guns. The benefit of having a laser tag party is that no matter what time the player arrives, he or she can join in the game.
Look in your local phone book for a list of laser tag rental companies. Often, they have packages for birthdays.
Game Show Party
Set up your living room or basement like the set of a game show. Use the sofas as the contestant area or as a live studio audience for players awaiting their turns. Select a game show that allows team play such as Family Feud. There is a version available for purchase that can be hooked up to your TV.
A card table or podium in the center of the room should be used for the host and players on a bonus round. Use two tables on either side of the room for each team. This party theme works best with less than 15 party guests.