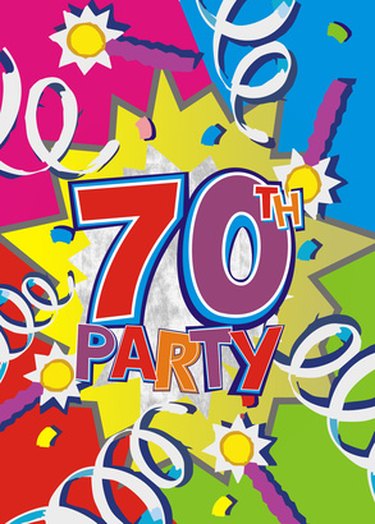 A 70th birthday is a monumental one, and the party should celebrate the person's life and journey. Creativity and innovation can make a party one to remember through decorations, games and activities. Throwing a surprise party for a person turning 70 should have a gentle surprise to not excite or frighten him too much.
Decorations
The decorations should reflect the number 70. The cake can be made in the shape of number 70. Buy tablecloths, party hats and confetti with the number 70 on them. You can also find paper numbers that you can use to hang from the ceiling. Streamers with the number 70 can also be purchased for added ceiling decorations. There are also ice cube trays in the shape of 70 that can be used at the party.
Games
Instead of playing 20 questions, play 70 questions and ask about the birthday person's life, specifically.
Play a trivia game that celebrates the number 70. You can find questions about famous people and what they accomplished by age 70.
Create games that focus on the year the person was born such as a guessing game using music from the year the individual was born. See who can guess the song title and the author of the song. You can play the same game using events, sayings and other memorabilia from the era of the person's childhood.
A great game to play at a 70th surprise party is bingo using the person's name for the letters instead of "bingo."
Gifts
Ask the people attending the party to give gifts relevant to the number 70. One person may give 70, one dollar bills, while someone else may give 70 bottles of the person's favorite Tabasco sauce. Encourage the attendees to get as creative and specific to the person as possible. Other 70 gift ideas are gifts cards with $70 on them, 70 of the person's favorite movies or a 70-minute massage at a spa.
Place
Hold the surprise 70th birthday party at the person's favorite bar or restaurant. This is a good way to get her to believe you're just going out to eat and celebrate. You can also have the surprise party at a special place that celebrates his specific life such as the house he was born in or the church he was married in. Other great locations for a 70th surprise party is a friends house or at a vineyard if the individual likes wine.