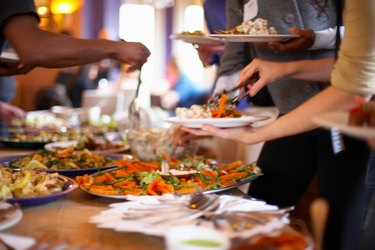 Whether it is a formal dinner party or a movie night potluck in your home, spending time with friends, relatives and even casual acquaintances you don't know well can be a fun way to depart from the everyday doldrums and share some time together. Throwing a party can be very expensive, though. Here are some creative ways to have your guests bring a dish or other useful items to the gathering.
Significance
People usually don't mind bringing one dish to a party. They are glad to do it for a few hours of socializing and a lighthearted good time. A party can be very disorganized if you do not assign people items to bring--you could wind up with six platters of deviled eggs but no vegetables, or a party heavy on the desserts that people can easily pick up from a local bakery but no meat dishes. Even people who don't cook at all can bring a bottle of wine, a loaf of French bread, chips or plastic or paper products.
Potluck
If you have a work party where you need people to contribute and bring a dish, first make a list of the menu and things that will be needed. If you have one large department, you can assign one group to bring casseroles or other main dishes but have each person donate a few dollars toward expensive ingredients. If there's a group of people who say they can't cook, assign them to bring paper products, drinks and other items they can simply purchase.
Another idea is to cut strips of paper that list each menu item, such as casseroles, hot side dishes, salads, appetizer trays and desserts, and put these into a bowl. Have each person draw a slip of paper. Write down what the item is and their name in case they forget what to bring. An alternative to this is to have two separate bowls, one for prepared items, and the other for purchased items. This way if someone will not have time or the skills to prepare something they can opt for the purchased items in that bowl.
Many people have specialty dishes that are always in demand and if this is the case you can have them tell you what they would like to bring and then assign others dishes that will work with those items.
Progressive Dinners
Progressive dinner parties are lots of fun and low stress, as the host at each house only has to provide a certain item. This is a creative way to get other people to contribute--and they get to show off their homes around the holidays or other special times of the year. Progressive parties are wonderful for neighborhoods, club members, and church groups--or even for a work party. Ask each household which part, or course, of the party they would like to host. The point is to start out at someone's house for cocktails and appetizers, go to the next house for salad and bread, the next house for the main entree and a side dish or two, then on to someone else's house for dessert and coffee or after dinner drinks. Progressive dinners can be formal affairs or very casual. You could start at someone's house for chips and dip or finger foods and lemonade, go to the next house for barbecued hamburgers and hot dogs and arrive at the last house for homemade ice cream. The expense of the party is divided so is not overwhelming for anyone; these parties usually take a few hours.
Mystery Soup
Another idea: Create mystery soup, suggests Survivalinsight.com. Invite everyone to your home and ask each person, couple or family to bring an assigned ingredient for the mystery soup. You provide the pot with chunks of stew meat, chicken or another base and then each guest brings an ingredient such as raw carrots, potatoes, onions or other vegetables. Get creative and have others bring the wine to go with the stew, dessert, an appetizer, bread or crackers or extra soup bowls. You could also use this same technique to have a baked potato bar with others bringing all the ingredients to top off their gourmet-baked potato. Having an ice cream sundae dessert party or a "top your own homemade pizza party" will bring the creativity out in your guests and you will be remembered for having a party that was a huge success.
B.Y.O.B.
Liquor is sometimes the most expensive part of throwing a party, so just tell your quests it is a "bring your own booze party." Issue the invitations for the B.Y.O.B. and tell your guests what you will be serving and that they can bring the beverage of their choice.
After the Holiday Party
Avoid the rush of holiday parties and have a party after the holidays, says the divinedinnerparty.com website. Families tend to have many leftovers after Thanksgiving, Hanukkah, Christmas and Easter feasts, so have a "day after" party. Folks can bring their leftover desserts, vegetable side dishes, and main dishes. Chances are good they had food that others did not have, and this is a way to share the food and eat the treats from other homes. This is a very inexpensive way to have a gathering and no preparation is needed because all the food preparation was already done. You can simply warm everything in microwaves, the oven or slow cookers.