Things You'll Need
Parchment

Beverages

Brocade

Sheets

Mugs

Cutlery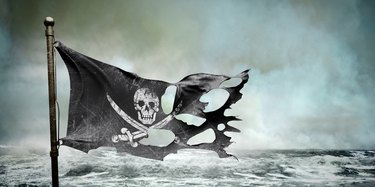 Although piracy has been a profession in one form or another for at least 1,500 years, the "classic" rum-swilling pirate made famous by stories like "Treasure Island" was active between about 1600 and 1800 A.D., ruling huge swathes of the Caribbean and Atlantic oceans. Today, adults can reenact the pirates' legendary exploits with pirate-themed parties featuring nautical foods, entertainment and liquor by the boatload.
Pirate Invitations
Step 1
Create your own invitations on scrolled parchment, providing directions to the venue in the form of a "treasure map" with an "X" marking the destination. Insert each invitation into a glass or plastic bottle and hand-deliver them. Beware of using bottles with necks so narrow that once the invitations are placed in, they're impossible to get back out. Create a ship-shaped invite by writing the information on a sheet of paper cut out to resemble a sail; affix the sail to a skewer anchored by a marshmallow placed in the middle of two strips of black paper. Since this is an adult party, note whether drinks will be provided, or if guests are responsible for bringing their own.
Step 2
Welcome guests by setting up the traditional "skull and bones" flag over the entrance to the party, and set up a real telescope in the room or make one from a tube of used paper towels. Cover up modern-looking appliances and furniture with old-fashioned sheets, lace and brocade, and serve food to your guests using wooden bowls and ceramic or china plates. Create a table centerpiece using a pirate treasure chest filled with golden chocolate coins, cheap jewelry, shot glasses and other party favors, and serve drinks in skull-shaped mugs. If you have a pool, purchase an inflatable boat-shaped cooler and set it adrift on the water, filled with ice and rum and other alcoholic beverages.
Step 3
Make deviled eggs that resemble boats by creating sails out of toothpicks with tiny slips of paper attached, or strips of green bell peppers in the shape of sails. Serve salmon, sushi rolls, hush puppies, crab and lobster, or roast meats like chicken and turkey over a spit in the backyard. For drinks, create authentic pirate fare by mixing lemons, rum and sugar to create gog, and, for dessert, carve a shark out of watermelon with marshmallows for teeth and black olives for eyes.
Step 4
Lead your guests in singing traditional sea shanties or contemporary nautical ballads by bands like the Decemberists or Flogging Molly, with their dark and adult themes of lust, greed and vengeance. Show an old swashbuckling film such as, "Captain Blood," the 1950 "Treasure Island" or one of the many adaptations of "The Count of Monte Cristo." Complete the night's entertainment by hiring professional belly-dancers, or play a game of Liar's Dice, an authentic pirate dice game made popular by the original "Pirates of the Caribbean" movie.
Tip
If one or more of your guests is unable or unwilling to drink alcohol, provide non-alcoholic alternatives.
Warning
If the party includes consumption of alcohol, limit the amount each person is permitted, or ensure that everyone has a way to get home.