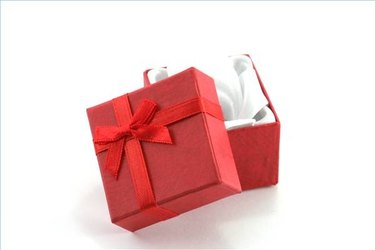 Participating in a Valentine's Day secret pal program builds a positive work environment. Participants are learning about their co-workers and sharing some about themselves. Organizing a Valentine's Day secret pal program requires a few guidelines such as a dollar limit for items and the number of days for gifts. Teachers can alter the concept of a Valentine's Day secret pal program to make the idea work for younger students at school.
Gift Ideas
Give your Valentine's Day secret pal items they like. Almost every secret pal program asks the members to complete a questionnaire of items they like, hobbies or favorites. Use this as a guideline for purchasing gifts for your Valentine's Day secret pal. If your Valentine's Day secret pal doesn't provide much information, stroll by his or her desk and take notice of things in the office. This may provide clues. Think about usual favorites such as coffees and teas, chocolates or stationery. Remember to stay within the price limit. For Valentine's Day, consider baking sweet treats for your secret pal or sending flowers if the pal is female. Use Valentine-themed bags and wrapping paper with red, pink and white ribbons to decorate the gifts.
Revealing Secret Pals
Revealing Valentine's Day secret pals brings the program to a close. Ideally, the reveal should take place on Valentine's Day. Select a time when all participating can attend. Consider a quick afternoon celebration with snacks and punch. Valentine's Day secret pals should bring their last gift. Consider having each person try and guess his or her secret pal. Another option is asking the secret pals to bring a clue with them based on one of their previous gifts to help their pals guess. Remember it needs to be something unique to stand out. For example, you gave your secret pal a Dallas Cowboys T-shirt since they are his favorite team. Consider walking in with a Cowboys coffee mug or cup to indicate you are the secret pal. Present the last gift after the reveal.
Valentine Mailboxes
Assigning Valentine secret pals to younger students can be modified slightly. Instead of asking the students to brings small gifts for several days for their secret pal, encourage them to design Valentine's Day mailboxes for their secret pal. Write each student's name on a small piece of paper and place the names in hat. Ask the students to draw one name out of the hat to be their Valentine's secret pal. Teachers should maintain a list of the secret pals in case a student forgets. Using a tissue box, shoe box or other container, students decorate a Valentine's Day mailbox for their secret pal. Provide students with one or two examples so they know what to do. Consider holding an after-school construction session to help students with the assembly. Encourage students to discover some of their secret pal's favorites and incorporate those into the design such as favorite candy, colors or sports team. Present the mailboxes to secret pals on Valentine's Day and use it to collect Valentine's Day cards.