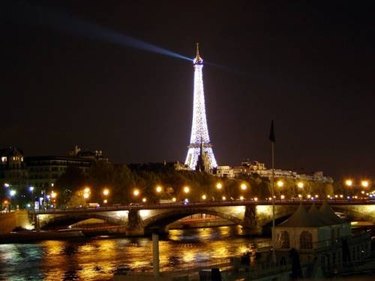 The words "French" and "fashion" share more than the same first letter. Some of the most famous names in fashion history are French, from Coco Chanel to Hubert de Givenchy. Also, French women are arguably a cut above everyone else when it comes to style. Choosing an appropriate dress for an evening in Paris theme party will take some understanding of the effortlessly cool French style.
Dress
The French can get away with avant-garde. For example, Academy Award-winning actress Marion Cotillard wore a fish-scale dress to the 2008 Oscars that, according to New York Magazine's fashion blog, many conventional American starlets couldn't pull off. For French women, it's not what they wear, but how they wear it. They never let the dress wear them.
Look for dresses reminiscent of a French woman's boudoir--a nude palette, black lace, light fabrics and languid shapes made to relax and naturally conform to the woman's body. Try dresses above the knee or ones that are long enough to brush the floor. Another option is to wear a little black dress. After all, the internationally famous dress is rooted in France, along with its designer, Chanel. Find one that best fits your form.
For 1940s French glamor, look for fur or faux fur stoles to casually throw over bare shoulders. If you're not a fan of fur, opt for an eclectic avant-garde shawl.
Shoes and Accessories
Wear playful peep-toe shoes. Look for shoes with innocent details, such as bows or lace. If you opt for flats, find ones that end in more of an angle, rather than a rounded toe. This can help extend your leg line.
French women also don't let accessories wear them. They keep jewelry light and minimal, but still find eclectic and original pieces--from pearls to antiques. With jewelry, less is more.
For handbags, look for simple clutches or a Chanel quilted bag.