Things You'll Need
Poster board

Black faux fur material

Spray glue

Ball

Gold or yellow ribbon

Red button-up shirt

White 2- to 3-inch wide ribbon

Gold belt buckle

12 gold buttons

Black button-up shirt

White ribbon or fabric paint

Black slacks

Black patent shoes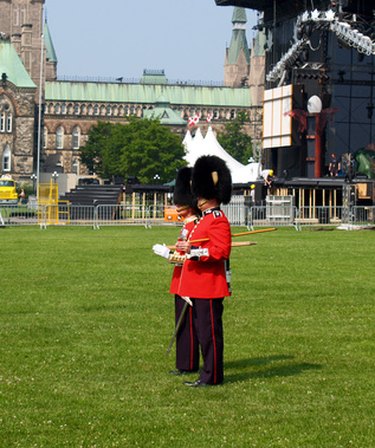 People spend thousands of dollars each year for Halloween costumes that most of them wear once and shove in a closet. Making a costume is a rewarding alternative that won't break the bank. Many people spend months trying to come up with costume ideas that are different from the latest trends. This Halloween, make a Royal Guard costume that is sure to be one of a kind, as well as inexpensive.
Step 1
Measure the circumference of your head to make a hat and add 1-inch for a seam. Use this measurement to mark the width of a hat on your poster board. Use 12 to 16 inches as the height measurement and mark. Cut out the rectangle you made. Form the poster board into a cylinder and staple using the extra 1 inch as your seam.
Step 2
Spray glue the poster board and cover with black faux fur material cut to size.
Step 3
Place a bowl or ball such as a volleyball, soccer ball, or basketball that fits perfectly into the cylinder at one end, exposing approximately half of it. Cut a piece of black faux fur to cover the bowl or ball and stitch on to the existing fur. Remove the ball. This will give you a dome-shaped hat. Add a yellow ribbon for a chin strap by stapling it to the inside of both sides of the hat. The ribbon should rest comfortably around the bottom of your chin and should not be tight enough to cause choking.
Step 4
Remove the collar and all buttons, including the ones on the sleeves, from a red button-up shirt.
Step 5
Cut the sleeves of your red button-up to approximately 3 inches above the wrist on each arm.
Step 6
Sew a 1/4-inch gold or yellow ribbon to the front vertical outside seam of your red button-up shirt. Sew a white 2- to 3-inch wide ribbon to the waist line of this shirt to look like a belt. Adorn with a gold belt buckle.
Step 7
Add six gold buttons to the front of the red button-up shirt. You may have to stitch some buttons where there were none before. Add two gold buttons to each sleeve of this shirt as well.
Step 8
Add one gold button to each sleeve of a black button-up shirt. Wear the black button-up under the red-button up shirt. The buttons should line up when you have both shirts on.
Step 9
Add a white 1/8-inch stripe to the outside seam of a black pair of dress slacks on each side using white fabric paint or ribbon.
Step 10
Wear black patent shoes to complete the look.