Six-year old girls are full of energy, imagination, and youthful social skills. Most little girls at this age are also easily excited given any party theme. Below are several new and different ideas for birthday party themes for six-year old girls. Depending on your budget, each idea can be planned frugally or with the sky the limit. Either way, your six-year old will have a great time and cherished memories of her sixth birthday party.
Pretty in Pink Party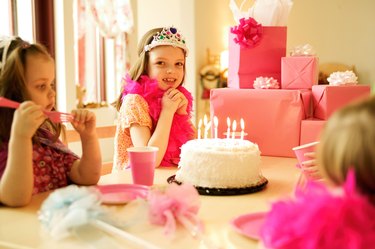 Little girls are often obsessed with colors at this age; pink being the most popular. However, if your soon-to-be six-year old is passionate about purple, you can have a "Pretty in Purple Party." The great thing about a color theme party is that you can take it as far as you want. Perhaps on the invitations you can recommend for guests to wear something pertaining to the party color theme. If pink is the color, pink lemonade can be served with refreshments. A white tablecloth can be used as a base background, which is easy and versatile; then incorporate the theme color in cups, plates, forks, napkins, etc. Games and party activities can include "Pin the Ponytail on the Princess" and clothing for the princess can carry the theme of the party. Allow the girls to make their own party necklaces, bracelets, and anklets with beads purchased in coordinating theme colors. Organize a Scavenger Hunt of theme-colored items. Obtain a collection of smooth rocks (one for each guest) and allow them to create their own "Pet Rock" using acrylic paint, glitter and plastic eyes. Encourage the girls to name their pet rocks using the beginning letter of the color theme, such as "P" for pink or purple (Paula, Patty, Penelope, Persha, for example).
Spa Party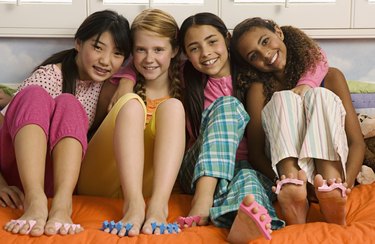 Girls of all ages love playing dress-up. Most little girls see older women and even teenagers getting manicures, pedicures and their makeup done and would love an opportunity to feel "grown-up" as well. If you choose to have a Spa Party, you may want to recruit a couple of teenage girls to help with this. You can have the teenage girls work several "stations" such as: a manicure, pedicure, a makeup station, a simple craft station, and a tattoo station where they can pick out and apply a temporary tattoo. Food can be simple with pizza, fruit/dip, and cake and ice cream. Each girl can rotate through each station until it's time for refreshments and opening of gifts. Popular music of this age can be played in the background throughout the course of the party.
Princess Party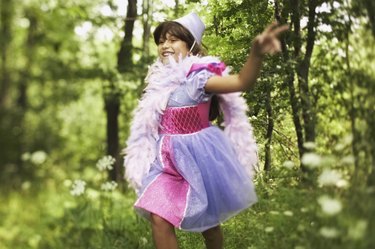 A princess party begins with the Birthday Princess. On invitations be sure to address each girl as "Princess." Example: Princess Miranda is invited to attend a Birthday Party for Princess Hannah. Centers can be set up for each girl to gradually be made into a princess. Crowns for each girl can be purchased at most Dollar Stores along with other supplies. The great thing about having a princess party is that it does not have to be elaborate; the girls' imagination will do that effortlessly.