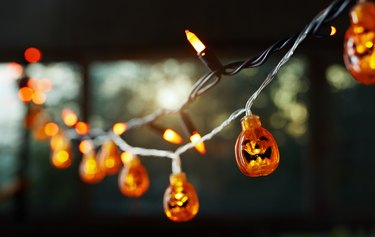 Spooky season will be here before you know it. To celebrate, add a few must-have items to your shopping list: candy, more candy, a creative costume, seasonal home decorations and Halloween lights, both for indoors and outdoors. Brightening your space with festive lights—whether on a front door, porch, fireplace mantel, entryway or otherwise—will immediately put you in the spirit. You don't need to be throwing a blowout Halloween party to justify investing in some lights either. (Though they are a must if you are.) You'll be sure to delight trick-or-treaters, neighbors, and, most importantly, yourself with Halloween decorations of all kinds, lights included.
Whether you opt for pumpkin string lights, strobe lights or a full Halloween display, there's no wrong way to decorate for the season, though lights of any kind are essential once the days start to get shorter. (A fog machine, meanwhile, is optional.) Go ahead, get in the mood for October 31st. We shopped for the best of the best Halloween lights that are sure to have you feeling the spooky spirit.
What To Consider When Purchasing Halloween Lights
​Batteries:​ Before your Halloween lights arrive on your doorstep, check your junk drawer. Do you have the proper batteries to light them? If not, be sure to add those to your online shopping cart too. The month of October flies by, so you don't want your lights sitting on your countertop for days as you wait for batteries to arrive. Each product listing will say how many batteries the lights need, if any, and if they are included or not.
​Brightness:​ If your Halloween lights will be outside or in a window, be considerate of your neighbors. How bright are the lights? Are they in the direct sightline of a neighbor's window? Be particularly thoughtful if they'd illuminate your neighbor's bedroom and especially thoughtful if they'd be in the sightline of a kid's bedroom. Do the lights blink or do they consistently stay on? You don't want to be ​that neighbor​. Be sure to turn them off before you head to bed too.
​Installation:​ Don't click "add to cart" unless you're confident in where and how you'll hang the Halloween lights. Will they rest gently on a mantel (like a garland would) with a battery pack, or will you need to hammer a nail into your home's exterior within a few feet of a plug? There's no right or wrong answer; just be prepared for how heavy the lights will be and how you'll illuminate them. That way you're sure to get the look you're aiming for.
Read on for 10 frightfully chic Halloween lights that will illuminate your spooky style.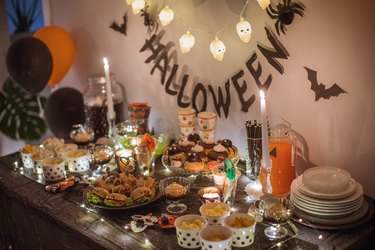 1. Orange and Purple Halloween Willow Branches
These multicolor lights on a realistic, 6-foot-long Halloween willow vine are a no-brainer. Add them to your Amazon cart immediately. Now comes the hard part: Where should you hang these LED lights? They're made for indoor and outdoor use, so they could illuminate your fireplace mantel, a tabletop, window sill, doorway, porch or mirror—and that's just for starters. The battery box comes with eight modes, including steady on, waves, slow fade and more, and you can set the timer function so you never have to remember to turn them off before heading to bed.
2. Lit Crystal Spider Web
Have you ever seen a more beautiful cobweb? (We haven't.) Place this delicate spider web, which has been pre-lit with 48 LED lights, either inside or outside. Where is up to you. It'd be just as beautiful on a front porch as it would in an entryway or above a fireplace mantel. This spider web, which is made out of plastic and copper wire with sweet fairy lights, measures 26 inches in diameter and 48 inches high. It isn't cheap, so be sure to store it safely so you can use it year after year, Halloween after Halloween.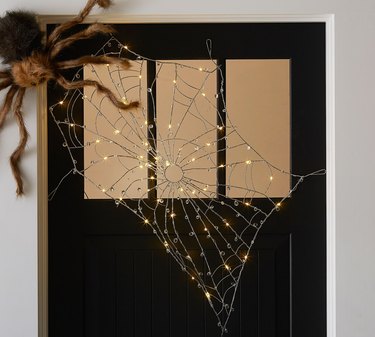 3. Light-Up Hanging Ghosts
Go ahead, say it with us: Aww! These light-up hanging ghosts are cute-as-can-be, making them perfect for any kid-friendly space. We can imagine them above a kid's homework desk, strung above a buffet table or across a mantel. (In any indoor space, really.) These white ghosts are battery-powered and include an energy-saving on/off switch timer. Note that the AA batteries it requires are not included though. Here's betting you'll be delighted to pull these out of your decorations bin each Halloween.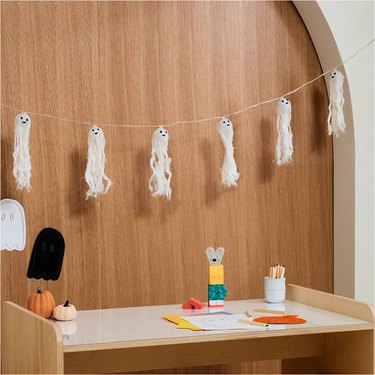 4. Halloween Candy Corn Pathway Lights
If you prefer a sweet decoration style over spooky, these are the Halloween lights for you. These oh-so-adorable candy corn lights would illuminate the path for you when you come home each night and also for the trick-or-treaters in your neighborhood come the big day. Each set is 5-1/2 feet long, so for a long walkway, consider buying a couple of sets for the full effect.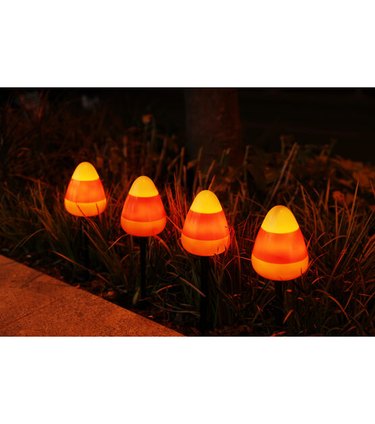 5. Incandescent Spider Web Halloween Novelty Silhouette Light
Spooky and sparkly: That's our ideal combination for Halloween lights. This string of three giant spiderwebs strewn with mini lights checks both of those boxes. Use these indoors or as part of your outdoor decor—the choice is yours. Drape them along a living room mantel, or hang them over your front door to give guests a heads up that they're potentially about to enter a haunted house. The green and orange lights are electric, so don't worry about scrambling to find the right batteries.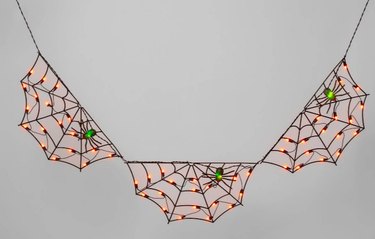 6. Skeleton Hands Halloween Light Set
If you hang these skeleton hands as part of your outdoor Halloween lights display, you're guaranteed to be the talk of the neighborhood. They're creepy ​and​ they're cool. Don't feel like you have to hang them outside though; they're both indoor- and outdoor-friendly. Just be sure you have AA batteries at home, or add them to your shopping list. This light set requires two AA batteries, which are not included.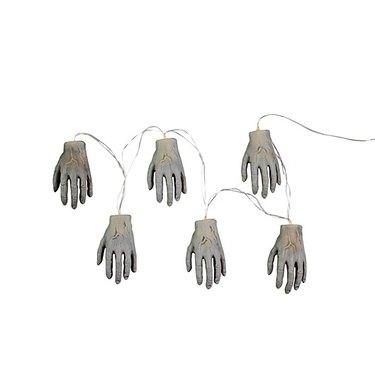 7. Spider Battery String Lighting
In our humble opinion, the cutest spiders are purple, battery operated and illuminate your holiday decorations. Like these. This set of Halloween string lights is 16 feet long, so you'll have plenty of room to play with, whether you want to hang them indoors or outdoors. No matter where you choose to string them, these sweet little spiders would add an appealing purple glow to your holiday home decor.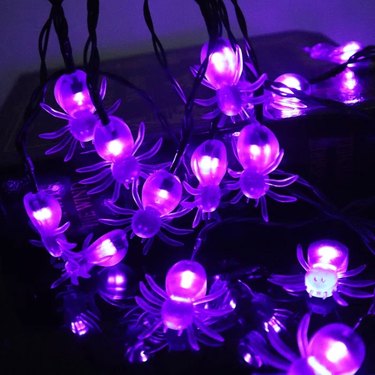 8. Pumpkins, Bats and Ghosts String Lights
There's no wrong place to put these energy-efficient LED Halloween lights. How about on your porch? Or wrapped around a staircase? If you're hosting a Halloween party, they could decorate the buffet table. No matter where you put these string lights, which feature bats, ghosts and pumpkins, they're bound to be a crowd favorite. They stay cool-to-the-touch, so they're kid- and pet-friendly, and also include a remote control with eight different special effects too.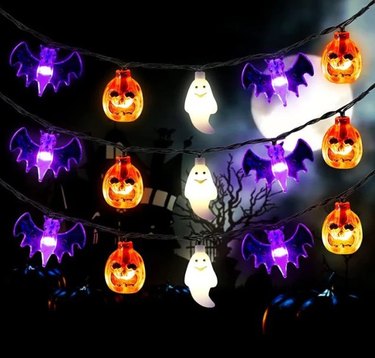 9. Nesting Galvanized Corrugated Metal Pumpkin Face Luminaries 3-Piece Set
As much as we love jack-'o-lanterns—we really, really do!—we don't love the mess they leave behind. (Or the mess the hungry squirrels leave behind after they nibble on them.) Nix the risk of pumpkin guts on your front porch by buying these reusable metal pumpkin faces instead. This set of three includes a small, medium and large luminary, each with a handle. They're easy to move around and could be hung from shepherds' hooks in your garden. Since the luminaries nest into each other, they're easy to store too, and won't take up too much space in your holiday decorations bin. Simply add flameless candles inside each one and you're all set.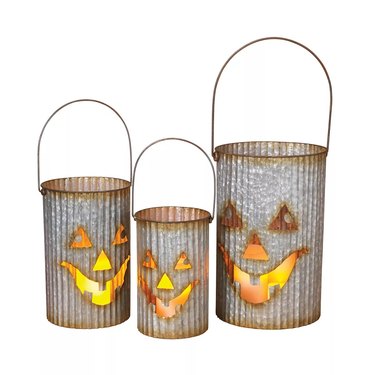 Eek, indeed! An animated, graphic sign like this would be an unexpected addition to your outdoor Halloween decor. While not heavy (it weighs just over 1-1/2 pounds) you'll need the perfect spot where you can hang it from a nail and be able to reach a plug with the 5-foot-long cord. If you have an ideal space, it's worth the purchase. This sign would add serious charm to your outdoor decor. Note that this sign only flashes, and doesn't stay consistently lit, so be conscientious if a light show would be annoying to your neighbors.