It's that wondrous time of year where families gather around the fire, enjoy savory dishes, unwrap presents and create new memories together that last forever. Now that Christmas is just a few weeks away, several of our favorite TikTokers are getting ready for the holidays by offering innovative DIY craft ideas that are so festive and fun, you'll inevitably get into the spirit. A hot cocoa bar, a Dollar Tree gift bag and lazy girl holiday décor (something we can all use) are just a few of the creative ideas suggested, and there's plenty more where that came from.
Check out these notable TikTok DIYers before decking your halls: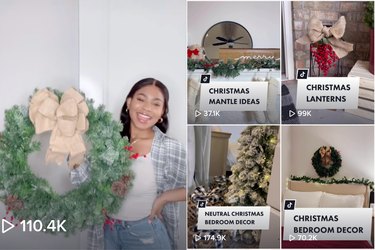 Her page is all about organization, home décor and simple recipes, so you won't be leaving Mallory's TikTok without being creatively inspired and ready to run to your nearest arts and crafts store. Some of her whimsical videos include a DIY Christmas potpourri, a Christmas wreath DIY, a both delicious and very aesthetically pleasing hot chocolate charcuterie board and a video on how to hang garland around your front door (the easy way) so you can have your abode prepared before family arrives. No need to overcomplicate—plus, your place will look ​beyond​ great!
The grooms who love to DIY everything are always bringing their A-game when it comes to holiday DIY craft content. One of our personal favorites is their video on how to make cinnamon spoons, which no doubt will make your next warm beverage that much more delightful and mouth-watering. Their banana bread recipe looks equally as delicious, but that's not all they offer. The dynamic duo also shares tutorials detailing how to make a $3 holiday nightlight and wreath. Both finished crafts will garner compliments from guests and be a stunning addition to your home!
"We've always had a passion for DIY, it's one of the reasons we got married," Brad and Tim tell eHow. "Our Creator/Influencer careers took off when we purchased a fixer upper home in 2020 during the pandemic. A lot of friends and family were interested in our progress, so we started sharing it on Instagram and TikTok."
"Christmas has always been a special time for both of us and our families," they add. "Gifts don't always have to be purchased, they can be made, baked, crafted, just as long as they come from the heart.
As for their DIY style, they describe it as "champagne taste on a beer budget!" The DIYers note, "It doesn't cost a lot of money to have nice things if you're willing to put in the time to make them."
That hot cocoa bar idea? Well, Macy shared her tips and tricks in a TikTok compilation, and the finished result looked as though she stepped into the North Pole while in the comfort of her own home. The content creator offers a wide range of ideas including style tips, seasonal home décor inspiration and easy-to-make recipes. Some of her popular content includes a DIY video on how to hang your outdoor wreaths, making it look both effortless and chic, an ornament arch tutorial as well as a how-to video with a tasty holiday cocktail recipe. Jingle Juice can be a hit at your party, too!
As an interior designer with budget-friendly décor and easy DIY tips, it's no surprise that Erin Klawiter, aka NiftyNest, also has a large following as an on-the-rise crafter, especially when the winter months roll around. She often shares simple and affordable ideas such as her Walmart bang for your buck video. In addition, her gorgeous garland and ornament display tutorial will have you sleigh-ing all holiday long — and it will certainly leave a lasting impression on any house guests. If you want to add some flair to mantels, tables, and other open spaces in your home, look no further than her TikTok for some inspiration. Small price, big impact!
"I started sharing easy and affordable DIY videos for people like me who don't have the big design budgets like my interior design clients do for things like furniture, accessories and attainable design tips," she tells eHow about what motivated her to create. "Love being inspired by other creatives, especially women, who are out there building and renovating amazing spaces but the majority of us have the tools, time and budget to try a simple, affordable and quick DIY. "
DIY décor is Amber's specialty, and it seems like she's always cooking up some new ideas for the holidays, and that surprisingly includes a pizza pan DIY, which creates an adorably festive finished product that you can proudly hang up on your wall. Her suggestions are cost-effective, cool and a breeze to follow along with. Who says you only need to have one tree in your house? One of her popular videos details how to make décor using cardboard, scraps, and a napkin — basically all items that you can find inside your house and put together in a way that appears as though you purchased it at your local Home Goods. Yes, please.
Lexi DIY's page has proven to be chock-full of cute videos that will make your home holiday-ready in the nick of time. Plus, who doesn't love a Dollar Tree compilation that can add some extra pizzazz with a lovely bow? One of hers offers suggestions on how to make a Christmas snow globe using just a few products while another shares a tutorial on how to arrange a sparkling display for your dinner table that really brightens up the room. The best part? All her how-to clips also don't involve breaking open the piggy bank so there's no need to fret if you need to pull off a last-minute miracle.
"When I joined Tiktok, I saw so many people sharing their creativity and it inspired me to do the same! I was on a really tight budget for my wedding and I wanted to show other brides that they can have their dream wedding with more affordable DIY projects!" Lexi shares. "My love of Christmas has absolutely driven me to share affordable holiday projects with my community! I truly believe that holiday decor brings a great deal of magic to the season!"
Next on the list is our lazy girl holiday deliverer! Bre came through with several videos that make prepping for the holidays a blast, including a video on how to decorate your home with snowy silhouette window cling and more. Her DIY gift ideas are creative and thoughtful, plus fitting for anybody trying to stay within their budget and accommodate several extended family members or maybe even a coworker in time for Secret Santa. One of her latest tutorials shows how to create a stunning centerpiece that will be the talk of everyone over Christmas dinner. And did we mention that it's durable? She even teases that "cats and toddlers are no match for this centerpiece! (I hope!)"
"Growing up my dad was always DIYing something for the house and my mom always had something crafty in the works (I especially remember the most amazing handmade Halloween costumes!)," she reveals to eHow. "Fast forward many years later, and I launched my career as a DIY creator in a moment of panic. I had quit my job as a lawyer to stay home with my kids, and realized a few months in that I needed something 'else' for myself. I started my blog on a whim and cannot believe where it's taken me all these years later."