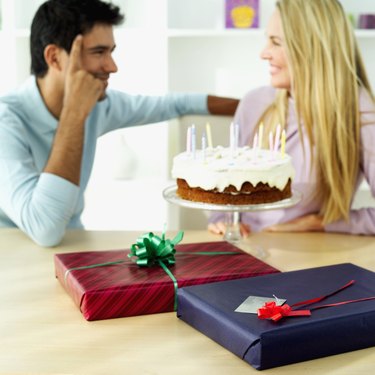 Surprise your girlfriend with a birthday she will never forget by doing cute things for her. Thoughtfulness goes a long way when it comes to creating a unique, unforgettable experience. Consider her interests, hobbies and any details she shared with you from her past to really surprise her with cute gestures of love on her birthday
Cook for Her
What girl doesn't like a guy that can cook — or at least try to. There are many cute surprises you can cook up in this area. Surprise her with breakfast in bed complete with freshly squeezed orange juice, eggs and a thoughtful note wishing her a happy birthday. If she is not a breakfast type of gal, bake her birthday cake. Order an edible image of the birthday girl with a sweet birthday wish inscribed. You can order it online or from your local bakery. Place the image on the cake once it's cooled and frosted. Give it to her first thing in the morning when she arises with lit candles, while singing the birthday song.
Build Her a Bear
Bears are cute gifts to give for any occasion. Giving your girlfriend a bear that you personally created for her birthday will make her heart smile. Create her birthday bear by selecting the outfit, the accessories, name her and even leave her with a personal message. Purchase an additional outfit for the bear and ship it off in time enough to reach your girlfriend by her birthday. This gift will last for years to come.
Sweet Birthday Wishes
Purchase a cute decorative jar from your local craft store. Get a few sheets of paper and write your girlfriend sweet birthday messages on strips of paper. Fold the strips and place them in the jar. Sample Messages could say "You fill my life with so much joy. You deserve everything I'm giving and so much more on your birthday" or "Happy birthday love, I have a surprise for you today." Fill the jar up with these cute love gestures. You can also use this idea to leave subtle hints of surprises you have in store for her. Once the jar is filled, place it someplace where she can find it when she wakes up.
Random Surprises Throughout Her Special Day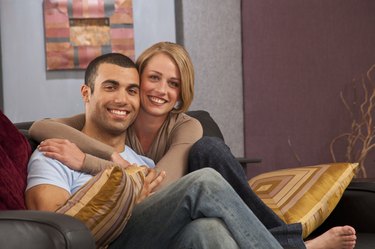 Place a single rose on the seat of her car with a gift certificate to get a manicure and/or a pedicure at her favorite spa so when she leaves in the morning she will see it. Send the remaining roses to her at home or work with a few balloons and a sweet birthday wish. Order in, pick up her favorite romantic comedy and get a bottle of wine. Spend the evening cuddling on the couch, spending quality time watching her favorite movie.