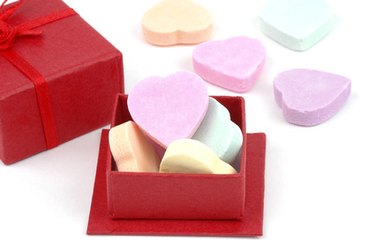 A Valentine's Day banquet is a great way to celebrate the holiday in fellowship with your church. Some banquets may be open to everyone, but on Valentine's Day, many Baptist churches choose to open the banquet only to married couples to celebrate their love for each other and the sanctity of marriage that God provided. Activities at the banquet may help couples work on their relationship, think about it, celebrate it and minister to each other.
Activities
Kick the banquet off with some fun activities for the couples. Taking pictures of the couples is a fun way to commemorate the banquet. You can hang the pictures in the church the following Sunday. Another fun activity is to let the husbands choose a song a week or so beforehand that they want to dedicate to their wives. As each song comes on, the husband who chose that song can get up in front of the group and tell why he chose that song and what it is he loves most about his wife. This is a great surprise for the ladies and a touching way to learn about the members of your church.
Food
The Valentine's banquet should have plenty of good food to eat. You could do a potluck, or make and serve the food at the church. It's a great idea to serve traditional foods that are considered romantic, like pasta or steaks. If you're making and serving the food at the banquet, a great idea is to have the more mature teenagers in your church make and serve the food. This way, they can get a glimpse into the life of a married couple, which is a clever way to minister to them.
Ministry
Since it is a church banquet, it is a good idea to minister to the couples as they're enjoying the activities and food. Toward the end of the banquet, you might provide a handout with scripture about love, relationships and the heart for the couples to think about. Valentine's day is a great time to assess relationships between couples and between couples and God. Some great verses include Proverbs 8:5, which focuses on understanding in the relationship; 1 Peter 3:15, which talks about a sanctified heart; Ephesians 5:19, which is a beautiful verse about a singing heart; Matthew 5:8, which teaches about a pure heart; Psalm 28:7, which advocates trusting relationships; Psalm 51:10, which encourages a clean heart, and Luke 10:27, which talks about a loving heart. Talking about these verses out loud during the banquet or simply asking the couples to go over them at home may reach couples that need to work on their relationships with each other or God, and may rekindle romances.