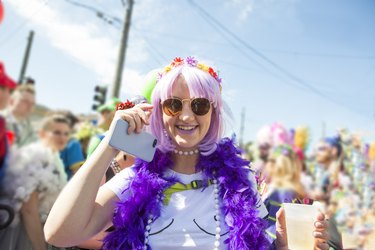 Also known as Fat Tuesday, Mardi Gras is a day of revelry and indulgence that takes place right before the solemn period of prayer and fasting in the Roman Catholic tradition known as Lent, which begins on Ash Wednesday.
Regardless of whether you are traveling to one of the famous Mardi Gras destinations around the world—New Orleans, Venice or Rio de Janeiro—for the annual carnival celebrations or attending a Mardi Gras party locally, a costume is a must for the occasion.
Whether you opt to throw on some Mardi Gras beads and a mask covered in sequins or go all out for a Mardi Gras outfit, note that ​the official colors of Mardi Gras are purple, green and gold​.
When it comes to a Mardi Gras costume, there are no hard and fast rules regarding what to wear, so it's a great opportunity to let your imagination run wild. While Mardi-Gras-specific costumes—jester costumes are a popular choice—can be purchased at many online retailers and in many costume shops, if you stick to the official Mardi Gras colors, you can wear:
T-shirt
Dress shirt
Pants
Skirt
Shorts
Leggings
Tutu
Dress
The Mardi Gras dress code is all about being over the top and calling attention to yourself, so this is the time to reach for bold pieces with ​sequins, feathers, glitter, rhinestones​ or any other festive details.
Don't forget to choose comfortable shoes that match the theme.
A Mardi Gras costume need not be limited to just your clothes. Glittery eye shadow, eyeliner, mascara or lipstick in bold colors are excellent options to complement your outfit, as are rhinestones that you can stick around your eyes, forehead and face for some extra sparkle.
And face painting is not just for kids; face and body paint can elevate any Mardi Gras outfit.
Masks are a key component of the Mardi Gras tradition. In fact, in New Orleans, anyone who rides on a float during a Mardi Gras parade is required by law to wear a mask. If a full-face mask feels like too much, though, a half-mask that covers just the eyes and nose is a great alternative.
To align with the Mardi Gras theme, a mask covered in green, gold or purple sequins or glitter is the perfect touch and an easy DIY project to make with just a few materials available at most craft stores.
For even more pizzazz, look for a mask adorned with some colorful feathers or rhinestones.
Other Mardi Gras accessories
A quick and easy way to make your Mardi Gras outfit stand out even more is by donning a wig in one or all three of the official Mardi Gras colors. Feather boas are also common components of Mardi Gras outfits and can help to keep you warm if the Mardi-Gras-themed party you are attending falls on a cool late-winter day.
Strands of purple, green and gold beads worn as necklaces are also popular Mardi Gras accessories.