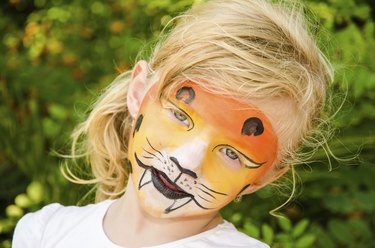 You can save money by making homemade body paint from ingredients that are already staple items in most homes. Handcrafted body paints make richly colored designs that rival store-bought paint, are safe for children and can even be used to make edible designs. Crafters of all skill levels can make body paint at home.
Lotion-Based Body Paint
White body lotion makes an excellent base for body paint; mix it with food coloring, watercolor paint or powdered eyeshadow to create dramatic body paint. Place the body lotion into a container with a lid before adding color. Mix a couple of drops of food coloring with to to create a long-lasting color. Paint the lotion on, and then wash it off, which leaves the color behind. Deepen the food-colored body paint by adding more drops of food coloring. Mix body lotion with watercolor paint to create paint with a deep color and that is easily washed off, or mix powdered eyeshadow with body lotion to create a thick creamy looking paint.
Hand Sanitizer Based Paint
Mix liquid food coloring with clear hand sanitizer to create a washable body paint. Place a small amount of hand sanitizer in an airtight container and add a couple of drops of food coloring. Shake the container well to mix the hand sanitizer and food coloring until it blends well. Add a small drop of white tempera paint to the body paint and mix thoroughly to create lighter shades of each color.
Cornstarch-Based Body Paint
Create a simple cornstarch body paint using cornstarch, body lotion, water and food coloring. Place 2 tablespoons of cornstarch into a container. Add 1 teaspoon of body lotion and 1 teaspoon of water; mix thoroughly. Add a couple of drops of food coloring and stir until the color is uniform throughout. Repeat this step for each additional color you make.
Chocolate-Based Body Paint
Use chocolate morsels to create chocolate body paint. Melt 16 ounces of semi-sweet chocolate in a double boiler. Add 1 1/2 cups of cream to the melted chocolate and stir well. Place the melted chocolate in a glass bowl or crock. Before using the body paint, verify the chocolate has cooled so it will not burn the skin. If desired, add mint, chili powder or espresso to flavor the chocolate. Use white chocolate morsels or butterscotch morsels for different paint colors.