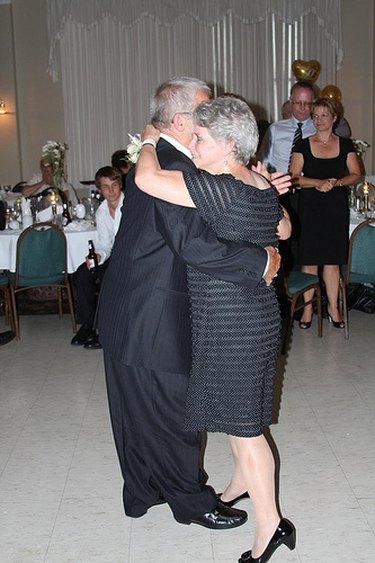 When planning a 50th wedding anniversary party, it's important to match the decorations to the occasion, as well as to the couple themselves. There are many types of 50th anniversary party decorations available on the Internet as well as at party supply stores. Think about how you can personalize these when thinking up decorating ideas for a 50th wedding anniversary.
Use Photos
Display old photos of the happy couple. Ask friends and family members for pictures they may have. Reproduce these to avoid losing or damaging the original photos. Try to find pictures of each member of the couple as children, as young adults, with their children when they were young and in more recent times. Enlarge one of the couple's wedding photos to poster size to hang on the walls. Display others in frames or mounted to a large posterboard. Try to find a photo of the couple cutting their wedding cake to display on the cake table at the party. A photo of the couple dancing at their wedding would be a nice addition to the DJ table, if you have one.
Use Gold
The 50th wedding anniversary is also called the "golden anniversary." Use the color gold wherever you can. Display gold candle holders and gold centerpieces on the table. If you don't have enough gold items for centerpieces, use spray paint to add gold to candelabras, candle holders and flowerpots. Find a gold number 50 to place on top of the cake. Use small gold picture frames instead of place cards, which can double as take-home gifts. If you have photos that are not matted, use gold foil to mat them. Colors that contrast well with gold as an accent color include red, silver, black and white. If desired, use the color that the bride chose for her bridesmaids as an accent color.
Choose a Theme
Pick a theme that the happy couple would enjoy, and decorate with this theme in mind. If they are love music, for example, decorate with old records, old CDs and use musical decorations. Avid world travelers may enjoy European or Asian-inspired decorations. For example, Tuscan-inspired decorations are often available at department stores. Chinese lanterns add lighting as well as decorations. Another possibility for a travel theme would be the couple's honeymoon location. Create a breezy beach atmosphere by using cool blues and emerald greens. Replicate a Hawaiian vacation with leis and ukuleles. If the couple has a Southwestern theme in their home, decorate with cacti, sand and fiesta decorations. This would be especially good for an outdoor barbecue. By considering the preferences of the couple, the decorations for the party will be a success.