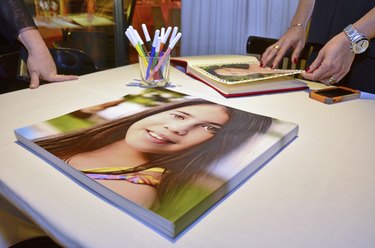 Whether it's the first week of college or a team-building exercise, an "all-about-me" poster is an interesting way for others to learn about you. Explore relevant family histories and reveal little known facts with words, photos or mementos that are unique to you. As your creation grows, you may even learn a little more about yourself along the way.
A Family Affair
It's important to know where a person has come from, so start with the basics and include information about your family. Whatever your family unit looks like, include photos of important family members and even pets. Add nicknames that you call your relatives or the story of how you were named. If your birth story is an unusual one, share it. Those who were adopted or born elsewhere may show a map of where they came from, especially if it is another country.
Did You Know . . . and Other Interesting Facts
Think of all the unique, silly or fascinating things that you can do and list them. They may be amazing feats such as, "I can sing the National Anthem in three different languages," or as simple as, "I am the only one in my family who is able to roll my tongue." Get creative about the amazing person behind the poster.
I Have a Dream
Describe your long-term aspirations to your audience. If you're not in your dream job yet you may have a solid idea of what kind of career you strive for. It's possible that you have more than one area of interest to explore. Find pictures of people doing your dream job and cut them out for your poster. If you dreamed of becoming a veterinarian since childhood and you have old photos of yourself bandaging toy animals for instance, don't forget to include them. Think about adding a short essay about your future dreams for your family, community, city or the world in general.
You're a Winner
Don't forget to showcase your accomplishments. Whether you've mastered a new language or instrument, run in your first half marathon or won a prestigious award, let the world know about it. Bring medals or awards to display with your poster or take a photo of them to attach to it. If you've been written up in the local or national newspapers, make copies to display.