An omelette only lasts five minutes, but the carton that held those eggs can spend forever in a landfill, especially if it's made of nonrecyclable foam. Crafting with egg cartons is a classic springtime activity, and repurposing these containers is both fun and environmentally responsible. So, pull out the craft supplies and start looking at old egg cartons not as trash but as treasure. (A word of caution: Egg cartons could still retain bacteria from the eggs that were once housed in them, so don't use them for kids' crafts with little ones who are young enough to put everything in their mouth.)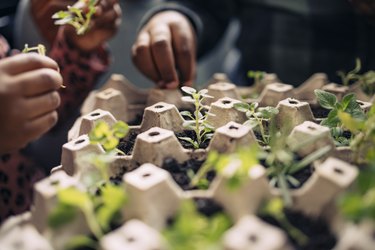 There's a reason kids often come home from preschool with egg carton seedlings. It's a fun way to grow new life and recycle egg cartons, and it's so easy that even a lifelong apartment dweller can handle this planting project. Poke a small hole in each carton cup for drainage and then fill the clean carton halfway with potting soil. Nestle a few seeds into each individual egg carton cup, top with more soil, water the soil and set the egg carton in a sunny place. Give your seedlings more water whenever the soil starts to feel dry and watch as they (hopefully) sprout and grow.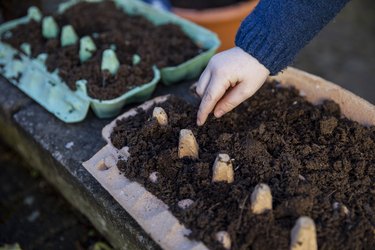 Welcome visitors to your door with a cheerful egg carton flower wreath. There are a few ways to make egg carton flowers. One simple way that works well for a wreath project starts with cutting a cardboard egg carton into individual cups. Cut several slits down the side of each cup so you can flatten it slightly and then trim each "petal" into a rounded shape. Paint flowers in a variety of shades and use paint or glued buttons to make pistils (the center of a flower). Layer multiple flowers together to give them more dimension or glue individual egg carton flowers to a wreath form.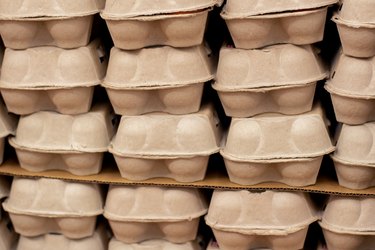 Making a new toy boat lets you repurpose a recycled egg carton and helps you convince dirty kids to get into the bathtub. Slice off the carton's lid and set the carton part inside the lid, creating a double-layered boat shape. (A six-pack egg box works well to make a smaller boat.) Tape triangular paper sails to wooden dowels or craft sticks and push them into the "fingers" that separate the egg cups. This easy craft works best with foam cartons since cardboard boats will get soggy quicker, but even a slightly soggy boat won't ruin this fun craft for most kids.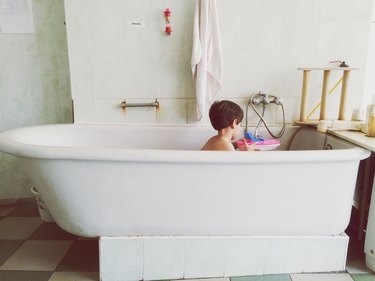 4. Make Egg Carton Chicks
Considering where the eggs came from, turning cartons into crafty little spring chicks is a cheeky way to recycle them. Cut up a cardboard carton to separate all the individual egg cups. Use a paintbrush to coat the outside of each cup with yellow craft paint. While they dry, cut out little triangles from orange and yellow paper. Glue pairs of egg cups together to create rounded chick shapes and glue on yellow wings and orange beaks and feet. Add googly eyes or draw on eyes with a marker.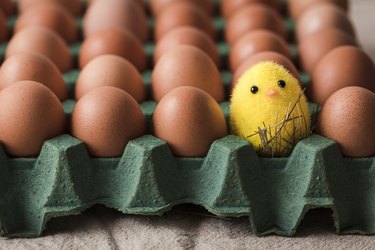 5. Paint Egg Cartons for Pretend Play
If you have little kids in the house, give egg cartons a coat of paint and put them in with the other pretend play toys. Imaginative kids will come up with their own ideas for incorporating these things into their play. You might paint several egg cartons to be used as stacking or building blocks or paint them with grass and flowers so kids can use them like sets for their dolls to play on.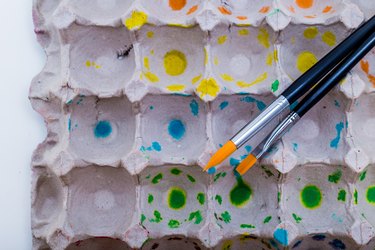 Anyone who celebrates Easter has probably tried dip-dying Easter eggs. It's fun enough, but there are so many more creative ways to paint eggs now. Give them funny faces or experiment with different dyeing techniques. Try a few different egg-painting tutorials to find methods you like. When your eggs are dry, display them back in the carton from which they came.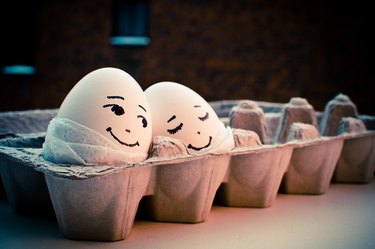 7. Create an Unconventional Centerpiece
The growing interest in DIY centerpieces has changed the way a lot of people think about table decor. A centerpiece doesn't have to be a vase filled with flowers. Any vessel can work, including egg cartons. Make simple, rustic tablescapes using egg cartons and cleaned, cracked eggshells filled with sprigs of herbs, leaves and flowers.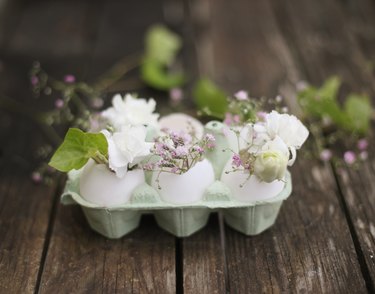 8. Create a Catch-All Organizer
When you pull odds and ends out of your pockets at the end of the day, do they end up scattered across a nightstand or countertop? If so, repurpose an old egg carton into a simple organizer for things like coins, paper clips and whatever else collects in your pockets. You can also use them as organizers for kids. If they love playing with tiny toys that are always getting lost or need help organizing beads and other craft supplies, egg cartons are an easy solution.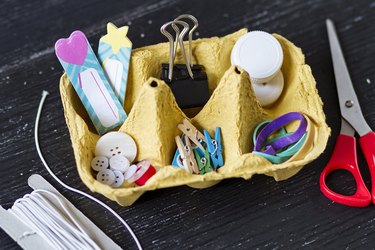 9. Make Holiday Decorations
Maybe it's spring now, but it will be Halloween before you know it. There are egg carton craft projects for every holiday, not just Easter and Earth Day. Make an egg carton snowman or Christmas tree by painting three or four egg carton cups either white or green. Stack them together and use paint, glue and pompoms to decorate them. Egg cups also make simple little pumpkins for your autumn decor. Use just one orange-painted cup for each pumpkin or make more rounded pumpkins by gluing two cups together.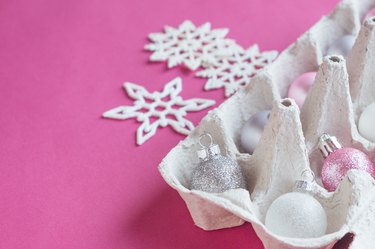 10. Build Egg Carton Creatures
Any number of adorable animals can be crafted out of your old egg boxes. Make egg carton dinosaurs, egg carton ladybugs or egg carton penguins using just glue, paint and other basic craft supplies. If you're looking for bee crafts, egg carton cups make the cutest bumblebees. Glue two yellow-painted cups together side by side to make a separate head and body for the bee. Glue on googly eyes and paint black stripes on the body. Use pipe cleaners to make legs, wings and antennae for your bees.