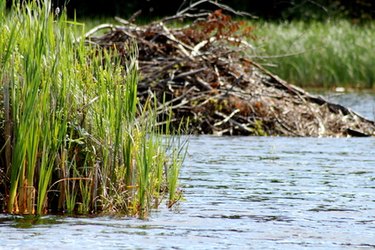 Whether studying dams and beavers with your child or visiting a rustic lodge retreat near rivers, setting up a beaver dam craft project for your child may be a great way to help them pass the time. The projects all use minimal materials easily found in arts and craft aisles at your local store.
Shoebox Beaver Dam
Break out the craft sticks, pipe cleaners and glue to build a child's beaver dam craft. The age of the child will determine how much you will need to supervise and if you even use the glue. Younger children can build the dam in the middle of the shoebox, dividing the box in half by layering and weaving craft sticks and pipe cleaner together, holding it together with glue. Older children can attempt to build the dam without any glue to see how well their structure will hold. Cut out grass, trees, flowers and a drawing of a beaver or two to glue around the edges of the top of the shoebox to create the scene. The craft is finished up when the child fills one side of the shoebox with blue marbles or decorating stones to simulate the water.
Beaver Dam Wreath
Children can create a wreath inspired by a beaver dam to adorn their door or wall with just a few items. After a trip outdoors to collect twigs and leaves the child will cut a sphere from a piece of poster board (as large or as small as they would like their wreath to be. The child will then draw a circle inside the sphere to determine the interior diameter of the wreath. The inside circle of the poster board is then colored or painted blue to represent the water. The child layers the twigs and leaves on the poster board (within the outer circle) the way that a beaver would build its dam, using glue to hold the pieces together. After layering her materials, to simulate a dam (about one to two inches high), she can add other decorations such as a beaver made of clay and hang the finished craft project.
Beaver Dam Napkin Holder
Put a twist on a popular child craft from Disney Family.com when you replace the colorful buttons placed on craft sticks with twigs to create a beaver dam napkin holder. Among the items the child needs are a piece of felt, 4 inches by 5 ½ inches; craft sticks and twigs. The sticks are glued to the felt and the twigs to the sticks. The dried finished project is glued so that the ends meet forming tube for a napkin to go into. Add more flair by attaching a ceramic beaver to the napkin holder or using homemade napkins made with a beaver print fabric.