Miniatures are huge! Dollhouse miniatures, that is. Geared more toward adults than children, these 1:24 scaled models have become a phenomenon in the hobby world. One of the main draws of these dollhouse miniatures is the accessories — from furniture to books to food, all are detailed and lifelike except they're tiny. In fact, dollhouse aficionados find assembling the little accessories to be very relaxing, and they even compare it to meditation. Most of the kits also include working LED lights as well as a music box for some mood music. Dollhouse miniature kits are available in many styles of architecture, and they even come as shops and cafes. Here are some of our favorites. They'll make you wish you could shrink in size and move right in.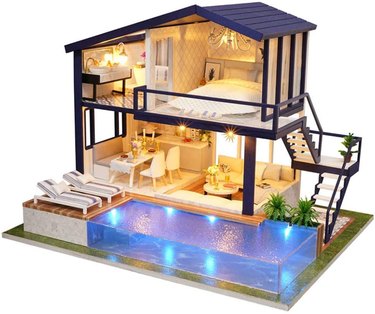 This vintage trailer will not only make you feel like you're traveling through the country but traveling through time. This kit includes all the materials to furnish this camper with the fineries you'd want it to have: a comfortable bed with throw pillows, light fixtures, curtains, a dining booth, a bistro and chairs for outdoor seating, a stove equipped with pots and pans and window boxes for flowers. Details include coffee cups filled with java, kitchen utensils and a guitar.
This retro kit is available on Amazon.
Tip
Display this miniature camper with an enlargement of one of your favorite vacation photos behind it as a backdrop.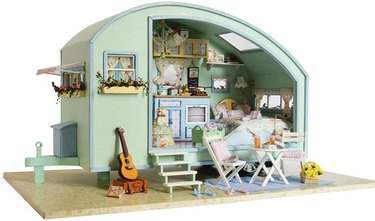 2. Modern House With Pool
Now this is living! This luxurious, two-story dollhouse kit is an absolute dream house. The package includes everything you'll need to decorate the various rooms: sofas and a coffee table for the living room, chairs and banquette for the dining and kitchen area, a sunken tub and modern vanity for the bathroom and a bed and chandelier in the bedroom. The piece de resistance is the patio, which features a swimming pool and a deck with lounge chairs.
To dive into the world of miniatures, find this kit on Amazon.
Tip
Personalize the house by placing tiny photos of your own family members and pets on the walls.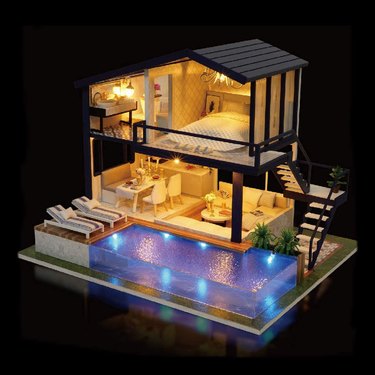 For fans of loft living, this dollhouse apartment has it all. This kit features a bookcase filled with tiny books, an ultra-modern chair, a sunroof and a striking spiral staircase that leads to a rooftop deck. You'll appreciate details like the fashionable rug, indoor and outdoor plants and a vintage camera for the bookshelf. Because this kit has only one main room, it is ideal for beginners to the miniature world since it is much more manageable.
This contemporary dollhouse kit is available on Amazon.
Tip
Make this a communal loft by inviting friends over for an assembly party. It's more fun to put everything together with other people.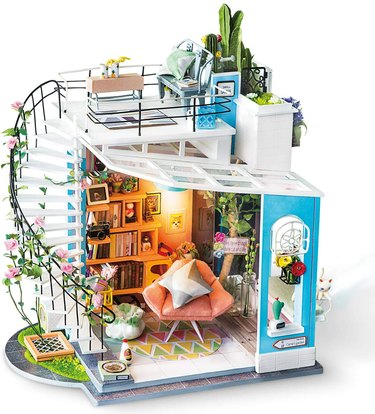 If you're in need of a vacation, this miniature seaside villa will definitely transport you. Besides the spacious two-story house with its inviting verandas, there are subterranean floors and an underground "aquarium" featuring sea life and sunken treasures. Sailboats and seagulls in the sky complete the postcard picture. This kit also includes a plastic display case to keep out dust.
To say aloha to this kit, purchase it on Amazon.
Tip
The many intricate pieces of this kit make this an ideal gift for people who like jigsaw puzzles.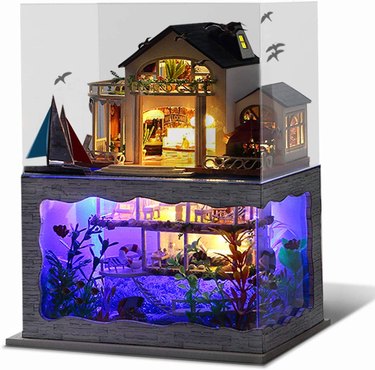 For a magnificent challenge, this miniature Chinese pagoda is as opulent as it gets. From the ornate fretwork on the doors, windows and balconies to the tile that wraps around the roof, the architecture is stunning. However, it's the little details that make this dollhouse such fun to assemble, like the foo dogs guarding the entrance and the cherry blossom tree and koi pond in the courtyard. Completing this pagoda takes patience, but it's worth the effort.
This Asian-influenced dollhouse kit is available on Amazon.
Tip
As you will have to provide your own glue to assemble the pieces, pick one that dries clear instead of white for best visual results.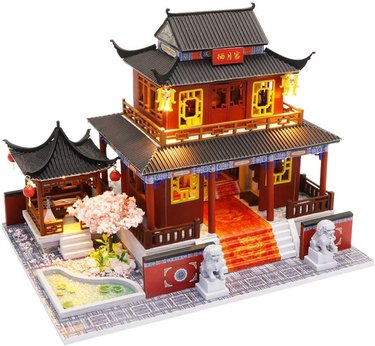 Book lovers will absolutely adore this quaint bookshop and all its trappings. The inviting clear doors and windows seem to beckon browsers inside, where accessories for the literary-minded abound. You'll be able to make a reading chair, bookcases, magazine and newspaper racks, potted plants and even a lamppost for the street corner.
If you want to book this kit, it's available on Etsy.
Tip
Display this miniature tableau on a bookcase for the full effect.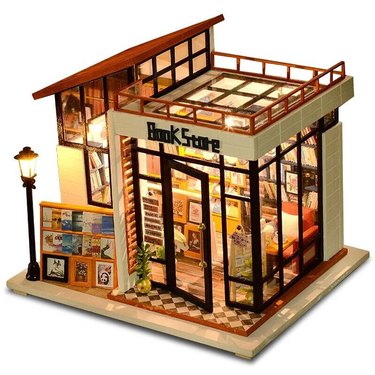 If you can't get through the morning without a cup of your favorite brew, you won't be able to resist this kit that depicts a coffee stand on a cobblestone street. The "Coffee Time" sign even features a font similar to the Starbucks logo. The coffeehouse accouterments you'll be able to assemble include menu boards, a bistro chair and table with umbrella, coffee machine, coffee mugs, to-go cups with sleeves, paper bags, a tray of food and flower boxes. There's also a counter with stools covered by an awning. This dollhouse miniature kit is paradise for caffeine fans.
If your creativity is percolating, this charming kit is available on Etsy.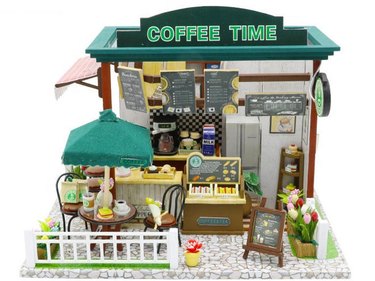 Creativity is in bloom with this beautiful miniature floral shop kit. It features a storefront on the first level along with some bistro seating for customers and a sunroom greenhouse on the second level. What's most fun about this kit is that you'll be able to make a variety of flowers ... flowers in buckets, vases, pots — you name it! From roses and hyacinths to sunflowers, you'll perfect your craft of creating tiny buds. The included LED lights illuminate the shop beautifully at night as well.
This bountiful miniature kit is available on Amazon.
Tip
This dollhouse would look beautiful as part of a larger floral arrangement tableau. Nestle it amongst a set of vases so it lives in a "neighborhood" of flowers.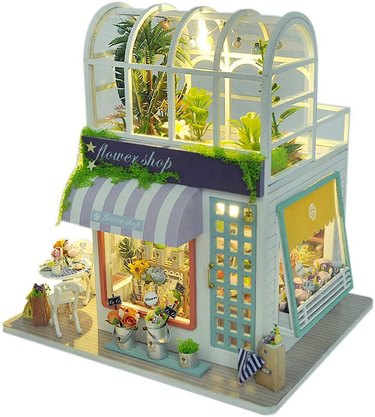 Anyone with a sweet tooth knows what it's like to walk by a patisserie with all the luscious pastries in the window, and this adorable miniature pastry shop captures that delicious anticipation. This is a pastry shop as it was meant to be. Outside is a darling exterior with flowers in the window boxes and a striped awning. Inside, a variety of baked goods, from cakes to cream puffs to croissants, are displayed amidst lace-covered tables and stands. Warning: Assembling this miniature pastry shop will make you very hungry, so keep some treats on hand.
This sweet kit is available on Amazon.
Tip
Working with such tiny elements is difficult to do with your fingers, so get yourself a good set of tweezers in different sizes.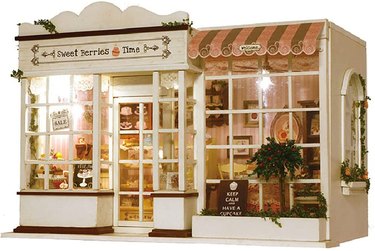 Who's in the mood for some sushi? This double-decker sushi bar is the ultimate miniature dollhouse kit for sushi lovers. The tiny details are impressive, from the bamboo drinking cups to the chopsticks and, of course, the dizzying variety of teeny-weeny sushi. (For those friends who don't like sushi, there are even rice bowls.) There's booth seating upstairs and a revolving sushi station at the counter downstairs. You'll wish this sushi bar were real!
This hot-as-wasabi kit is available on Etsy.
Tip
Take lots of breaks when assembling this and other miniatures to help relieve eye and neck strain.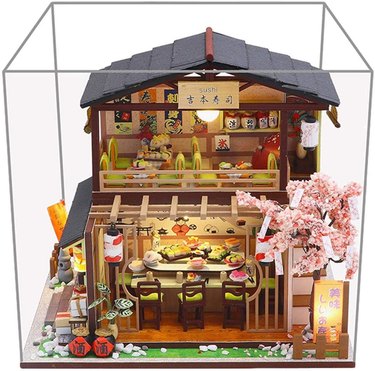 Whether you're a seasoned expert at dollhouse miniatures or a newbie, any of these kits will help fuel your creativity in a big — and tiny — way.