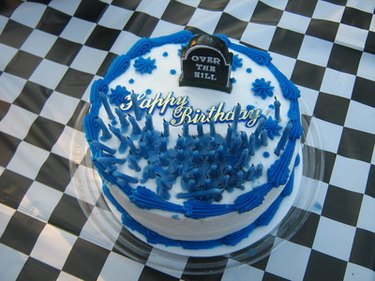 When turning 40, an individual may dread a traditional over-the-hill birthday party. Instead of sticking to those predictable 40th birthday themes, consider other, more unique ideas. A 40th birthday should be a day that the celebrant remembers fondly. Fortunately, there are birthday party ideas that will help him do just that.
Back-in-Time Theme
Consider the decade in which the celebrant grew up and organize a party theme according to that era. For example, if he grew up in the 1970s, have guests wear apparel that was popular in that decade. Styles include high-waist bell-bottoms, platform shoes, vests, mini-dresses and hot pants. Hairstyles for women included sleek, straight hairstyles and layered, feathered hair paired with a wide forehead band. Bowl cuts, "shags" and mullets were popular among men. Afros were popular among both sexes in the 1970s. Game possibilities include '70s trivia, and disco dance contests. Food ideas are nachos served in mini sombreros, raisin cookies, and fondue. Decorations could include lava lamps, pet rocks, strobe lights, black lights and black-light posters, smiley faces and peace sign decals.
Birthday Roast
Send out invitations that ask guests to come up with funny stories about the birthday person. They should also include a humorous picture of the person from "back in the day." Set chairs around the guest of honor and take turns sharing stories about him. Decorate the party area with old pictures of him or hang up old, silly outfits that he once wore. This kind of party should only be considered if you know that the guest of honor has a sense of humor and will not be humiliated or upset at the roast. For dinner, a pot roast is a neat idea.
Nostalgia Tour
Rent a limo and take the guest of honor and party goers on a tour around her hometown. Share stories about certain areas and possibly even stop in at the local ice cream shop or diner for a meal. On the way around the city, listen to the guest of honor's favorite tunes. When the tour is finished, provide the party goers and main guest with goody bags complete with treats from their childhood, such as candy and toys, like Super Balls, Slinkies and Silly Putty.