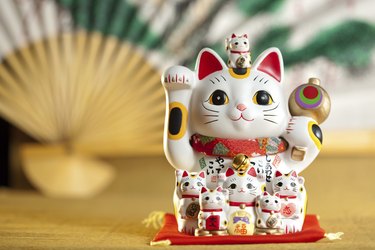 If you have a friend or a family member who has recently opened a new business, you may be thinking of giving them a congratulations gift on the new venture. A thoughtful gift that benefits the business, such as supplies or specialty software that would save time, is something a business owner would appreciate and use, no matter what the nature of the business.
Business Supplies
A bundle of office supplies creates an essential gift basket for the person you are gifting. Staplers, paper, writing utensils and even printer ink are all essentials that a stressed-out new business owner would more than likely appreciate. Purchase decorative items for the office, such as new bookends and desk trays. You can also create customized, personalized calendars and other office supplies and have them printed at local office supply stores or online.
Software and Hardware
If the person you are giving the gift to is running any kind of business requiring technical hardware or software, get it for them. Software makes basic business tasks run smoothly and helps grow the business even more effectively than other methods, such as handling each section of the business yourself. Software for financial management, business planning and even marketing programs are all suitable choices for those starting a new business. Hardware gifts such as a webcam, microphone or wireless mouse are other ways to congratulate the new business owner.
Time
Starting up and managing a new business can be overwhelming and extremely stressful, so if you can, dedicate some of your time to your friend if she has just opened a new business. Offer to help with any remodeling or planning she may need when it comes to the development of the business. Encourage her during late hours or even deliver dinner if she is simply overwhelmed with tasks and duties for the day. If you are unsure what you may be able to offer, simply ask if she needs anything done to help ease the stresses of opening the business.
Travel Gear
Many business owners today are often required to travel the country, and sometimes internationally, to complete the ownership duties of running their company. If the business owner travels often, supply her with a new luggage set or other luggage and traveling accessories, such as personalized luggage tags or carry-on bags. Purchase a quality, travel-friendly laptop bag if she takes her laptop along on her travels.
Subscriptions
Purchasing a yearly subscription to an online magazine or newsletter that is relevant to your friend's business may be the perfect gift for her, and it is inexpensive. Trade magazines and newsletters offer information to help grow and expand the business, depending on the niche. Books relevant to your friend's business can be found at most national bookstores as well as online at popular book-selling websites.