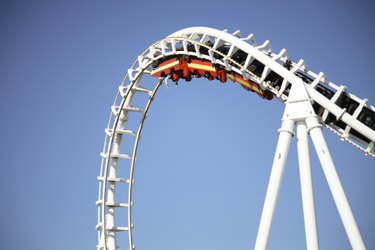 When you are turning 11, the typical birthday party with cake, presents and party games doesn't feel as special anymore because it seems so childish. Take the opportunity to celebrate your 11th birthday by going out with your friends or family members to participate in an activity you really enjoy.
Sporting Event
Purchase tickets for you and a few of your best friends to a local sporting event happening on or around your birthday. If you have a favorite basketball, baseball, football or soccer team, going to one of their games in person is a special way to spend your birthday. Enjoy nachos, hot dogs and other foods from the concession stand and celebrate with cake at home after the game.
Spa Outing
For the 11-year-old girl who loves being pampered, go on an outing with a few close friends to a spa or beauty salon. Girls can get spa treatments, manicures, pedicures, facials, hair styling or makeup. After the beauty treatments, head out to the mall and pick out a new birthday outfit to complete the look.
Bowling
Head out to the local bowling alley to enjoy a few competitive, unusual or silly games of bowling, depending on which you prefer. Silly ideas include bowling backwards, in slow motion, through your friend's legs or maybe with your opposite hand. Find a bowling center that does a late-night disco or rock music session. The alley turns down the main lights and plays loud music while you bowl. Most bowling alleys serve food, but if yours doesn't or you have a favorite restaurant, go out to eat before or after the bowling games.
Hotel Slumber Party
Instead of having a slumber party at home, have your parents rent out a hotel suite for the night so you and your friends can spend the night in the hotel. Make your slumber party a pool party as well, by having guests bring swimsuits to use in the hotel pool or hot tub in the evening. Finish the night with lots of snacks, a movie and a pillow fight.
Theme Park
Invite a few best friends to spend the day at a nearby theme park. Attend an amusement park to ride roller coasters and other thrill rides. If your birthday is during the summer, you could opt for a water park instead. Other park ideas include spending a day at the zoo or going to an indoor arcade or miniature golf.