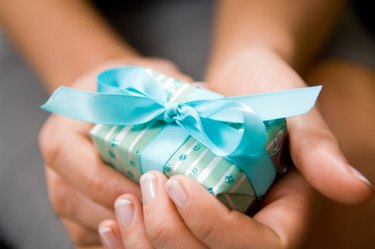 Women who are picky or already have everything they want can be extremely difficult to find gifts for during birthdays and holidays. No matter how difficult a woman might be to shop for, you can find something she loves by thinking outside the box. Trying to find the right gift for a woman may require some creativity and deep reflection on her interests and personality.
Gift Cards
Gift cards are ideal gifts for women who are hard to buy for because you give the woman the option of choosing anything in a particular store. Choosing a gift card is easy if you know a woman's favorite store or one she frequents often. Gift cards are available for various types of stores ranging from department stores to grocery stores. The options for gift cards are numerous; you can buy a gift card to a woman's favorite restaurant or a hair salon she frequently visits. If you know a woman who enjoys watching movies or going to the movie theater, consider a gift card to a video rental store. You can also buy gift cards for online purchases such as music downloads.
Flowers and Candy
Flowers and candy are simple and easy-to-choose gifts for a woman who is hard to buy for, especially if you know her preferences. You can buy a bouquet of flowers or have some sent to her house or place of work as a surprise. If you do not know what kind of flowers or candy she likes, buy a bouquet of various flowers or a variety of candies, you are sure to choose at least one that she likes. Also consider buying chocolate flowers or a bouquet of flower-shaped fruits, which can be dipped in chocolate.
Jewelry
Most women will appreciate a piece of jewelry whether a necklace or bracelet. If you are unfamiliar with what she likes, purchase a simple or classic item such as a chain necklace, gold bracelet or pearl necklace. If you are struggling with making a choice, consider if she has a favorite outfit or dress and choose an item of jewelry that complements it. You can also choose a piece of jewelry that complements another item that she wears such as buying earrings or a bracelet that is similar to a necklace she wears.
Charity Donation
Some women are hard to buy gifts for because they already have everything they need or want. If you cannot think of anything to buy for a woman or if she truly does not want you to buy her a gift, consider making a donation to a charity. Pick a charity you know she often makes donations to and make a contribution in her name. If you are unsure of which charity she supports, examine her activities and interests to determine an appropriate charity. If you know she recycles and is concerned with conservation, make a donation to an environmentalist group. If she has pets or loves animals, donate to the Humane Society or a dog or cat shelter.