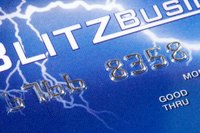 Prepaid Visa cards resemble a credit card and are used in the same way, but they don't come with a line of credit. Instead, a customer loads money onto the card in the same way a retailer's gift card is purchased. Use the card to pay for items that require a credit card number. Send prepaid Visa cards as a gift or to help with the day-to-day expenses of a college student or family member.
Log on to Visa's website and click on "Prepaid and Gift Cards" on the horizontal menu on the top of the page.
Choose between the tab for "In Person" or "Online." Clicking "In Person" will bring you a list of locations in your area where you can purchase a card. If you choose "Online," you will be provided with a list of vendors who can process your order online and ship the card.
Click on the card icon for a vendor of your choosing. Some, like the banks, require an account for purchase. The retailers will list their requirements in the boxes showing their logos.
Fill out the form as requested by the vendor if you are buying online, including the name and address of the recipient. You will be asked if you want the card shipped to you or directly to the recipient.
Pay for the card as the site asks, generally using a credit or debit card, and your prepaid Visa will be shipped to the recipient or directly to you.