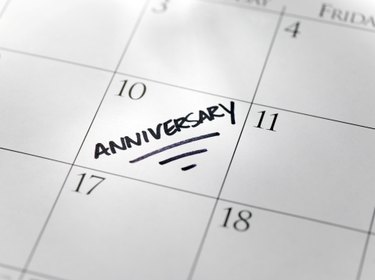 While a 49th wedding anniversary does not technically mark a milestone anniversary, it is still a marital achievement that warrants celebration. Spending 49 years in a marriage will often serve as an inspiration and a party or gift to mark the occasion is appropriate. While the coming celebration the following year is a tremendous event, there are many traditional aspects relevant to the 49th anniversary as well.
Luxury
Luxury gifts are the traditional gift for the 49th year of marriage. Utilize this by reflecting on the couple's individual taste for luxury. For a more laid back couple, consider a hammock for two or a porch swing. Some quiet time to watch the sun go down together may be the luxury they are looking for. For a more elegant and sophisticated couple, a bottle of fine, aged wine or a gift certificate to their favorite luxurious restaurant would be a fitting choice.
Trip
An extravagant gift that relates to the theme of luxury is to purchase a trip for the couple. Ask children and grown grandchildren of the couple to chip in to purchase an elegant and luxurious trip to an island for relaxation or a weekend at a casino for a luxurious and decadent outing. Utilize your knowledge of the couple and their interests to choose the best destination for them. For an added touch of luxury, upgrade the plane tickets to first class.
Gold and Sapphire
Combine the traditional gifts of 45 years of marriage, which is the sapphire gemstone and 50 years of marriage, which is gold, to create a custom, traditional gift for the couple's 49th anniversary. A gold vase, statue or piece of art that is plated in gold and has sapphire accents would be ideal. For separate couples gift, a gold and sapphire pair of cuff links for the husband along with a gold and sapphire necklace for the wife would be appropriate as well.