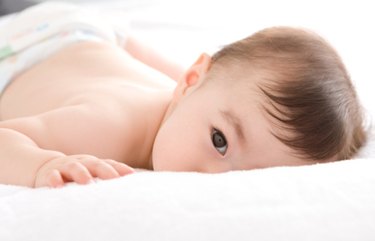 A welcome baby party is similar to a baby shower, but with an interesting twist. The party takes place after the baby arrives instead of before. This is a neat idea if there are lots of relatives and friends who want to visit your new arrival. Everyone can get a glimpse of the newborn and welcome her home.
Guests and Invitations
Because the party takes place after the baby is born and probably isn't as formal as a shower, feel free to invite everyone. Most baby showers are usually female only, but because this is a party for the baby, invite both men and women, as well as children. You can pick a theme, too. Have a rock-star-themed party and make invitations shaped like stars. On the front, say, "Come meet the new person who's rocking our world." Consider making the gathering a come-and-go party, so guests can mingle as long as they please and leave whenever they want.
Decorations
Decorate for your welcome baby party a little differently than you would decorate for a shower. Blow up some pictures that were taken in the hospital and any cute candids that have been taken since he was born. Decorate the walls with the pictures. If the party is outside, hang them on a clothesline. To make the look even more whimsical, add onesies to the clothesline. Balloons, streamers and cut flowers add to the festive look. You can also consider hanging Chinese paper lanterns.
Food
Food for a welcome baby party can be casual. If the weather is nice, consider having a cookout and setting up some picnic tables. Enjoy burgers, hot dogs, corn on the cob and different types of desserts. Brownies and finger desserts are options if kids are attending the party. You could also have a potluck-style meal where everyone brings one food item to be served buffet style. Perhaps the easiest option is having a stack of pizzas delivered and serving them with a salad.