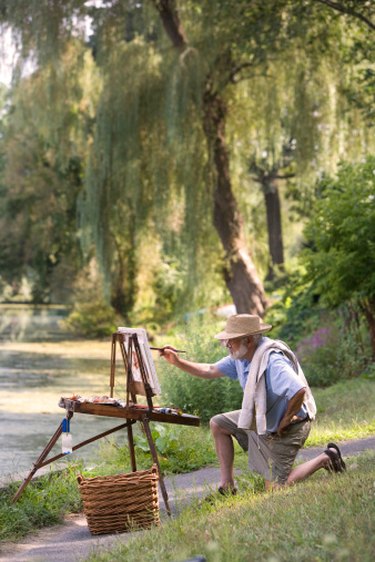 Whether it's a gift for your dad, favorite uncle or grandfather, picking a Christmas gift for an elderly man can be a challenge. Most older men don't express a desire for gifts, and when asked, they usually tell you not to spend the money. To come up with good gift ideas, think about their hobbies, home, social interaction and entertainment.
Classes
Many community colleges and senior centers offer classes for social, intellectual or physical stimulation. Sign him up for an investing, painting, computer or language class. In the exercise department, consider a class in water exercise, yoga or weight training. If the instruction is at a community college, arrange to take him to campus, get him oriented and buy a parking pass if necessary.
Home Gifts
Many elderly men can't do household chores as easily as they once did. Hire a reputable handy person to fix things that need to be upgraded around the house. Make arrangements for a gardener to come once a week or twice a month, depending on the need. You can also give the gift of time by arranging to mow the lawn once in awhile, or work in the garden with him.
Hobby-Related Gifts
If he enjoys reading, walking, playing games or doing another hobby, indulge his passion. Choose books with crossword or brain puzzles in large type. Pick up playing cards with large faces and play a game with him. Books on tape or large-type books are also appreciated. For an elderly man who has memory issues, the AARP website recommends gifts that resemble things he had as a child and will engage his senses. Picture with large, colorful illustrations, dolls and stuffed animals with familiar textures and board games are options.
Cooking and Baking
Many older men like homemade food such as meatloaf, pot roast with vegetables or a favorite cake or pie. If he is single and not inclined to cook himself, ask him what he likes to eat, and then prepare the dish. Deliver it in single-size servings that he can heat as needed.
Entertainment
Gift cards can be a good choice if he likes to eat at restaurants or cafes. Give enough on the card so that he can take a spouse or a friend. If he enjoys movies, give a card to the local theater and enclose a bag of microwave popcorn and a candy bar to make it special. Buy a CD or DVD if he enjoys music or watching movies at home.
The Gift of Self
Spending time with an elderly man is probably the gift he will enjoy the most. Take him to a sporting event or art gallery. Spring for breakfast, lunch or just a cup of coffee. Ask him to your home to watch your favorite TV show or have a family dinner. Go for a Sunday drive in your car with the radio on and talk about old times, memories or family.