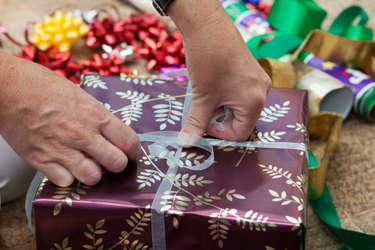 The "white elephant" game is a popular way to exchange gifts at holiday parties. To play the game, each person must bring a gift and put it into a collection of presents. Participants take turns picking a gift from the pile and deciding if they want to keep it or swap it for a gift someone else has already picked and unwrapped. Finding a gift that would appeal to everyone is no small task, so if you want to bring a present everyone wants, shop thoughtfully and with consideration for the people who are participating.
Foot Massager
At Christmastime, people spend hours wandering shopping malls and standing around holiday parties in uncomfortable dress shoes. Finding a few moments to sit down and comfort aching feet is a luxury during this time of year, which can make a portable foot massage tub an attractive gift to bring to a party.
Gift Card
A Christmastime survey of over 3,000 people found that a gift card is one of the most widely appreciated Christmas gifts. Amid the jumble of odd items that are usually found in a white elephant gift exchange, a gift card to a popular store or coffee shop could quickly become a hot commodity.
Comedy DVD
During the holiday season of socializing and family gatherings, a genuinely funny video is a handy thing to have around, so a DVD of a popular comedian might be a good choice for a gift exchange. In keeping with a lighthearted theme, you could include a silly gag gift along with the video.