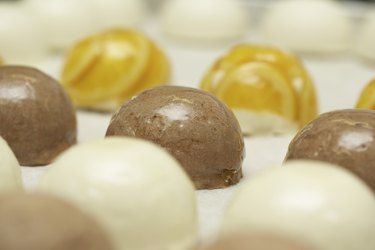 Christmastime is a time for gift giving. And while we mostly give gifts that are meaningful, or things we know the recipient truly would love to receive, there are times when giving funny gag gifts for Christmas is part of the holiday fun. Holiday gag gifts are often given at office parties, or at gatherings of friends who have agreed to exchange humorous gifts. When you give gag gifts that are both funny and humorous, everyone has fun.
Batteries as Useful Gag Gifts
Wrap up a set of AA batteries, or a selection of different size batteries, in a traditional gift package. Enclose a note that says, "Toy Not Included." This funny gag gift for Christmas comes in handy when the batteries in the TV remote or a flashlight die.
Christmas Poop Joke Christmas Gift
Christmas poop gifts are actually sweet treats that everyone will enjoy. Homemade Gifts Made Easy has this idea for a really poopy funny gag gift for Christmas. Take one or more jars and fill with red and green M&Ms for elf poop, chocolate coated cherries or apricots for reindeer poop, or marshmallows for snowman poop. You can also use mini Baby Ruth candy bars for Santa poop, but you will want to cover the original wrappers with red or green paper. Attach colorful labels telling the lucky recipient what kind of holiday poop is in each jar. If you like, make up short limericks or poems about the poop. You can also decorate the jars with holiday ribbon or stickers.
Give packaged rolls of cookie dough for a tasty holiday gag gift. You can attach a note or card that says something like, "Since everyone is short on dough at Christmastime, I thought this might come in handy." You can find holiday cookie dough at many markets around Christmas. These dough rolls have colorful wreath or Christmas tree patterns in them.
Christmas Stocking Stuffers
You can make a great Christmas gag gift with a Christmas stocking. Everyone loves to open their stocking at Christmas to find all the treasures that are hiding within. Fill your gag gift Christmas stocking with an array of interesting surprises such as a small box that has a toy snake or other scary item in it, or toys that make funny or weird noises, or a really ugly Santa figurine. You might also consider an empty jar that has a label that reads "Winter Wind". Practical things -- useful gag gifts -- but things that still might make your recipient say, "Hmmm", will work too. Try a wire whisk, a paint stirrer, a packet of instant coffee, or some binder clips.
Find a box -- a very large box -- the bigger the better. Weight the box with something noisy and/or heavy to add a mysterious element. Rattling can be produced with pennies, marbles or even small rocks. A brick or stone can add heft. Stuff the box full of bubble wrap. The material is readily available at the Post Office, or in the stationery department of discount retail stores. Be sure to wrap the funny Christmas gag gift up extra-fancy. After all, how often does one receive bubbles for Christmas?