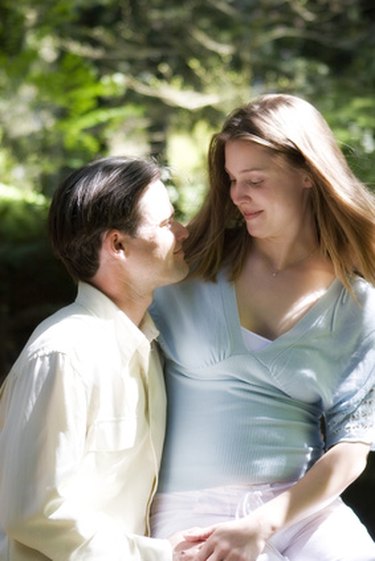 Give a special gift to the man in your life that will make him think of you every time he looks at it. It will always make him smile when he thinks about how much he cares about you and how happy you make him. Put some thoughtfulness into a sweet gift for your boyfriend or husband.
Personalized Presents
Get something monogrammed to make it even more special. Engrave your pet name for him, anniversary date or a simple "I Love You" to make a nice gift even more memorable. A key ring, piece of jewelry, money clip or set of cuff links are all beautiful gifts that he'll treasure. Or have a nice watch engraved at a jewelry store. Some MP3 players can be engraved, as well, and would make a thoughtful present for a music-loving man.
Photo Gift
Buy, or better yet, make a photo frame for your man. Find a cute picture of the two of you when you first started dating and frame it for him. Include a funny caption or write down your memories of when the picture was taken and give that to him along with the framed photo. Make sure the photo is displayed in a prominent place, such as his dresser, where he'll see it every single day. Another idea is to create a scrapbook or photo collage if you have a lot of great pictures and can't choose just one.
Wallet-Sized Love
Get a piece of cardstock and cut it to wallet size. On the cardstock, write a list of all the reasons you love him, what he does to make you happy or some things he does that make you laugh and smile. Another idea is to write about what he brings to your life or how he makes every day special. If you're a wizard with words, write him a sweet poem. Tuck the card into the front of his wallet so every time he opens it he'll think about you and the love you share.