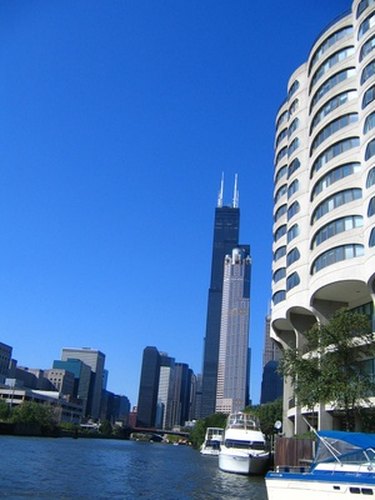 A birthday should be a memorable occasion each year. Certain birthdays stand out--that surprise party at 30, or the long weekend with friends at 25. The city of Chicago offers an abundance of activities to make a birthday special. For visitors or Chicago natives, whether it is a romantic evening or a wild party with friends, a birthday in Chicago can be one to remember.
Karaoke at Trader Todd's
A karaoke party at Trader Todd's is a perfect birthday outing with a group of friends. This mid-town spot has a fun and casual atmosphere, with karaoke on stage seven nights a week. With 30,000 songs to choose from, everyone in the group will find titles to sing. Trader Todd's has a full menu of appetizers, sandwiches and entrees, and specialty cocktails are available from the fully-stocked bar. Enjoy your refreshments in the karaoke room year-round, or in the beer garden during summer.
Trader Todd's 3216 N. Sheffield Ave. Chicago, IL 60657 773-348-3250 tradertodd.com
"Spirit of Chicago"
Whether it's a romantic birthday date, or a large party of family and friends, a trip on "Spirit of Chicago" is an unforgettable treat. This entertainment cruise ship sails from Navy Pier in River East Plaza. A cocktail hour is followed by a freshly-prepared dinner buffet. Guests can stroll the outdoor deck and gaze at the Chicago nighttime skyline before returning inside for dancing. Brunch, moonlight and theme cruises are available. The entire ship may be rented for large parties.
"Spirit of Chicago" River East Plaza 401 E. Illinois St., Suite 310 Chicago, IL 60611 866-273-2469 spiritofchicago.com
Spa Party
A birthday spent with girlfriends can be marked with a relaxing spa party. Diana's Nail and Spa, in Chicago's downtown Loop area, was voted "Best Manicures and Pedicures" by Citysearch in 2008. This full-service spa provides manicure and pedicure services, waxing, facials and massages. Diana's offers a "BYOB" birthday party--guests bring their own drinks and food, and choose spa services a la carte; or, birthday parties can receive a discount for group manicures and/or pedicures.
Diana's Nail and Spa 175 N. Franklin St. Chicago, IL 60606 312-332-2662 diananailspa.com
Whirly Ball
WhirlyBall is an establishment housing the raucous activity of the same name. A birthday celebration with the guys, or even a large co-ed group of friends, could be well-spent playing WhirlyBall. The "sport" mixes techniques used in basketball, hockey and lacrosse, with the sheer fun of driving in bumper cars. Players use plastic scoops to toss a whiffle ball to each other, and try to score baskets, while ramming into each other in bumper cars. WhirlyBall's downtown Chicago location also features an international menu, full-service bar, laser tag, pool tables and video games.
WhirlyBall 1880 W. Fullerton Ave. Chicago, IL 60614 773-486-7777 whirlyball.com