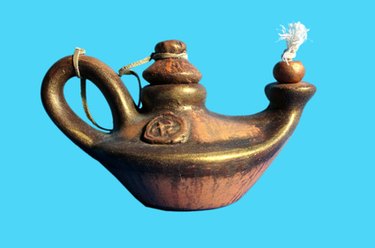 An Arabian nights birthday party theme works for children of all ages. This party theme includes interesting and fun characters such as genies and Arabian royalty, which makes it ideal if you intend to have guests wear costumes. Aside from costume options, an Arabian nights party also offers intriguing menu choices and activities. Having fun with this theme is sure to create a birthday celebration your child never forgets.
Invitations
Use parchment paper (available in craft stores) to create an invitation. Write party information on the paper with a calligraphy pen so that the words look fancy. Include party date, time, location and theme, as well as whether guests should arrive in costume. Roll up the parchment into a scroll, tying it off with a gold ribbon or cord. Hand deliver invitations to guests at least two weeks prior to the party.
Decorations
Purchase balloons, streamers, and table cloths in gold, blue and purple. Hang the balloons and streamers everywhere possible. Use coffee tables instead of regular tables and place large cushions around them so guests can sit on the floor. Cover tables with the table cloths, placing a genie lamp in the center of each to serve as a centerpiece. Fill some balloons with helium and create a balloon bouquet to tie to the genie lamps. Place candles around the room (consider flameless candles, if your guests are very young) and play Persian music on continuous loop. Scatter fake jewels and gold coins on the floor and place fake snakes in baskets in corners for "snake charmers".
Games and Activities
Create a crate or treasure chest of party favors (inexpensive toys or candy). Give guests clues as to where the treasure is and allow them to hunt for it, dividing the treasure evenly between them once it has been found. Have kids sit in a circle and pass a genie lamp around the circle while you play music. Stop the music randomly. Whichever child is left holding the lamp is out of the game but receives a small prize. Give a grand prize to the player left at the end. Place a spoonful of glitter and a small favor (candy works well) inside a balloon then inflate the balloon. Allow the children to stomp and pop the "magic" balloons for prizes.
Menu
Serve theme foods, such as pita bread with different types of hummus (or meat and cheese spreads for guests who may not be willing to try different foods). Serve olives, grapes or figs as sides. Fig cookies also make good sides. Slice fruits into bite-sized pieces and place the bits on wooden skewers to make fruit kabobs. Make a sheet cake and use icing to decorate it like a magic carpet, complete with gold tassels on the corners. Place a toy genie or genie lamp onto the magic carpet cake as a topper.
Favors
Fill small baskets or treasure chests with favors for guests. Give out items such as fake jewels and plastic jewelry, small genie lamps, foil-wrapped chocolate coins, exotic toy snakes, and Arabian nights story books. You may also include plastic swords, face veils and tiaras or small candles.