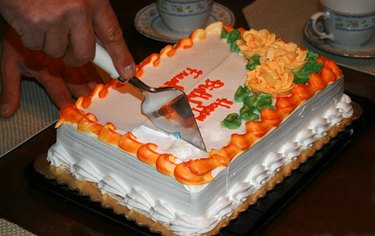 If you are planning a birthday party in October, you'll have no shortage of inspiration. The beauty and charm of the autumn season are abundant in the scents, colors, seasonal foods and nature itself. There are a lot of October festivities, both widely traditional and little known, that make excellent party themes.
Harvest Festival
Hold a "harvest festival" birthday party in a backyard or park. Let nature provide your decor; simply add finishing touches such as pumpkins, scarecrows or Indian corn. Hold an apple toss, potato sack races or play pin-the-nose-on-the-scarecrow. Arrange a hayride, if possible. Belly-warming, rib-sticking foods such as chili, corn-on-the-cob and cinnamon pumpkin bread are the perfect fare.
Oktoberfest
Decor for an Oktoberfest party theme revolves around the colors of the Bavarian Oktoberfest flag: white and cobalt blue, preferably in a diamond pattern. The flag sports a gold lion crest, so posters of the lion are a nice touch. For an adult party, steins, mugs and other beer-themed decorations are a blast. Pass around Alpine feathered caps and beer goggles for guests to wear. Fire up the grill for bratwurst, served with sauerkraut and big salty pretzels.
Scrappy Birthday
Capture the warmth and color of the season with a craft party. Ask guests to bring their favorite family photos for a scrapbooking session. Provide the craft supplies, including glue sticks, cardstock, rubber stamps, paper punches and stickers. Choose autumn-themed scrapbooking paper packets to set out for guests to use. Set up plenty of table space so guests can create their own memory album pages. Experienced scrappers can partner with beginners, or hire a professional scrapbooker to present a demonstration. Finger sandwiches, a raw veggie platter and popcorn make it simple for guests to munch as they work. Take photos with an instant or digital camera so you can make a scrapbook page of the party as it's going on; have everyone sign the page as a keepsake.
Pizza Party
October is also "National Pizza Month," a perfect excuse for a pizza birthday party. Decorate with red and white checkered tablecloths and green streamers; hang pizza boxes on the wall and create large pizza "slices" out of construction paper or felt to hang up. Making pizza can be the main party activity. Mix your favorite pizza dough recipe and roll out individual pizza-sized discs for your guests. To save yourself the trouble of working with raw dough, use packages of prebaked pizza crusts that come in individual serving sizes, or use Italian bread cut in half lengthwise for a ready-made crust--just bake it until the cheese melts. Set out pizza fixings, such as sauce, shredded cheese and a host of toppings, for guests to choose from.
Halloween Party
Celebrate with a big Halloween birthday blowout. Hang traditional Halloween decorations with a twist: Put party hats on skeletons, display a rubber disembodied hand holding balloons or mix streamers with cobwebs. Present a pumpkin-carving contest, a spooky murder mystery dinner or a horror movie marathon. Make some "gross" foods, such as blood punch, lady finger sandwiches that look like real fingers or a "kitty litter" cake.