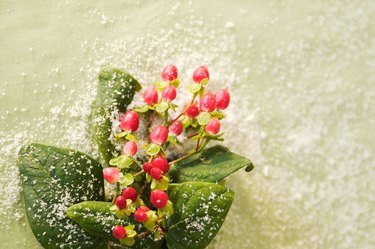 Christmas tree snow spray in a can is designed for dusting the branches of your tree with faux snow, but it's actually a very versatile product. During the holiday season, use artificial snow spray for decorating and other festive projects all around the house. With a few easy ideas, you can transform your home into a winter wonderland and create all kinds of fun ornaments, centerpieces and festive displays.
Look into different artificial snow spray options, which include icy and frosty effects as well as fluffy snow, and make sure the brand you buy is suitable for the surfaces you'll be spraying. Read the manufacturer's instructions and safety tips before getting started on any fake snow decoration ideas.
Fake Snow Spray for Christmas Trees, Wreaths and Garlands
Artificial snow spray is most often used to add a snowy effect to Christmas trees, whether real or fake, and other festive greenery, such as wreaths and garlands. Start with these fake snow decoration ideas for a classic way to add a touch of faux snow inside the home.
You can apply just a light spritz from above to mimic a gentle snowfall over the pine needles or spray it all over for a frozen white wonderland effect. These basic decorating projects will also help you get a feel for decorating with fake snow spray for a Christmas tree and help you to learn how much to apply to get the desired results.
Decorate With Snow-Covered Pine Cones, Twigs and Leaves
Natural elements from the outdoors that we associate with winter, such as pine cones, bare twigs, holly and mistletoe, look extra festive with a touch of snow. These items can be real, gathered from outside or fake versions purchased from a craft store. Also look through your old holiday decorations for items that could be revitalized with spray snow. Places these items on some old paper and spritz them with Christmas tree snow spray in the same way you would a tree or wreath. Start with a light coat and add additional coats to work up to your desired amount of snow.
You can add these snow-accented ornaments around the tree, along a mantle or in bowls, vases or jars to place around the house. Longer twigs sprayed with snow look great standing in a tall vase. Another fake snow decoration idea is to string snowy pine cones together on string or clear thread to hang as a garland. A coating of faux snow also helps give a cohesive look to items arranged on a plate as a centerpiece, such as candlesticks and ornaments.
Faux Snow for Wintery Windows
One of the most popular uses for Christmas tree snow spray is to decorate windows. Spraying faux snow along the bottom and side edges of window panes gives the appearance of real snow settling outside while you're cozy indoors. You can take the snow-on-window decorating idea a step further by using stencils with the spray snow. Simply hold or stick the stencil to the window, spray over it with snow and then remove the stencil. Choose holiday-themed stencils in an appropriate size for the windows or create your own from contact paper. Some ideas include snowflakes, candy canes, pine trees or more complex images, such as a snowy village or Santa in his sleigh with flying reindeer.
Artistic types, especially anyone with experience painting with spray paint, might skip the stencils and use spray snow on windows freehand. Use the spray snow as if it were regular white spray paint and create a design that's as simple or complex as your skills allow. You can add details to the design using a dry paintbrush to remove and move around the faux snow before it dries. Also have a cloth and window-cleaning spray or soapy water on hand for corrections, which are also easier to do before the faux snow dries. Note that this kind of art project is easier to do when it's dark outside.
Don't use faux snow spray on any surfaces that will come in contact with food or near any real candles that you intend to light.