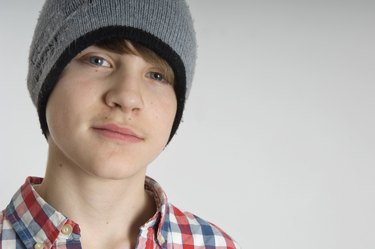 Valentine's Day celebrates not only romantic love but also love for friends and family. However, finding gifts for family members can be difficult, especially for 13 year old boys. Though candy is always a safe bet, other typical Valentine's gifts like stuffed animals and jewelry won't do for adolescent boys. Finding good Valentine's Day gifts for 13 year old boys is a balance between sticking with the theme and catering to their interests and wishes.
Plush Beating Heart
An anatomically correct plush beating heart not only appeals to a 13 year old boy's sense of gross-cool-things, it appeals to his sense of humor. Valentine's Day gifts often feature hearts of some kind with many of them playing music or spouting poetry. Instead, this soft, fuzzy heart---complete with blue and pink veins and arteries---vibrates and gives a realistic thudding sound when shaken. Many boys adolescent age and older will enjoy the irony of this gift. It is also semi-educational since it shows the shape of an actual human heart. Plus, he will enjoy using it to gross out and fascinate his peers.
Terrariums
Tiny terrariums may not seem to be in the Valentine's Day spirit, but a young gardener or mad scientist boy will enjoy it immensely. Plus, it serves as a good substitute for Valentine's Day flowers. These terrariums are low-maintenance and often have a variety of cool and pretty plants in them. This makes them fun because they aren't hard to use and they show fast results after planting. For boys with especially gruesome senses of humor, terrariums full of carnivorous plants would be appropriate. They include tiny Venus flytraps and pitcher plants. The only downside to these is that a boy may need to catch or purchase food for them.
Board Games
Board games make perfect gifts for young men with lots of friends. Since he's older, adventure board games like Risk and pirate or zombie themed games would work well. Games like Bananagrams or Apples to Apples could also be good gifts, since he can play those either with his friends or family. Bananagrams involves spelling words with little Scrabble tiles and no board, while Apples to Apples is a game of opinions and very funny word associations. Not only do these allow a budding young man to be creative, it gives him and his buddies something to do on rainy days. These games will show a boy that his family knows him well and wants to spend time with him.