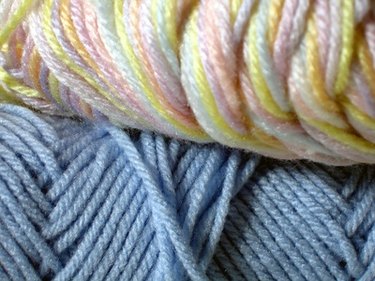 Think back to the days of summer camp, remember the ever-present "God's eye" craft that involves winding yarn around a pair of sticks That easy-to-make craft is just the tip of the Popsicle stick and yarn craft iceberg. Yarn and Popsicle sticks are some of the cheapest craft materials available, making projects using them affordable. Plus, the crafts are simple enough for children to do, and adults find them entertaining as well. There are instructions for a multitude of Popsicle stick and yarn crafts available in books and online. The materials are also versatile enough to bring out your creativity so you can design your own yarn and Popsicle stick creations.
Yarn Bird Marionette
Yarn bird marionettes are simple puppets that both children and adults love. Yarn birds consist of a head, body, and two feet made of yarn pom poms. To make the pom poms, wrap the yarn around your fingers several times until the pom poms are as full as you want them. Tightly tie a small piece of yarn around the center and clip the yarn loops. Tie two Popsicle sticks together in a cross shape. Attach the head to the body with a long piece of yarn for the neck. Use long pieces of yarn to tie the feet to the body. To complete the marionette, use pieces of yarn to tie the head, body and feet to the Popsicle stick cross.
Popsicle Stick Fish Mobile
Popsicle stick fish mobiles create a colorful addition to any area. Color Popsicle sticks with markers, paint or crayons. Glue six of the Popsicle sticks together in a crisscrossing pattern (three Popsicle sticks on each side), and then glue one Popsicle stick to each side, running from the point of the fish's mouth to the "V" of the fish's tail. Tie two Popsicle sticks together with yarn to form a cross. Tie one end of a long piece of yarn to the top of the fish, and tie the other end to one arm of the Popsicle stick cross. Add three more fish to the mobile and tie a yarn loop to the center of the Popsicle stick cross for a way to hang the mobile.
Picture Frame
A great way to display a photograph is with a personalized, handmade picture frame. Glue four Popsicle sticks together to form a square. Glue Popsicle sticks along the back to form a solid back to the frame. Decorate the front with yarn bows, yarn "ribbons" or whatever else you have on hand. For a hanger, glue each end of a length of yarn to the top of the back of the frame and glue a Popsicle stick across the ends of the yarn to help keep it secure.