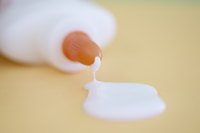 Popsicle sticks can be used to create various craft items, from photo frames to model bridges to holiday ornaments. Popsicle stick crafts are most commonly made by gluing the sticks together with nontoxic white craft glue. This glue dries clear and is a breeze to clean up, making it ideal for young crafters. The process of gluing together two separate popsicle sticks takes only a matter of seconds and can be repeated until your project is complete.
Things You'll Need
Wipe the surface of both of the popsicle sticks with a clean paper towel to remove any dust or lint.
Apply a thin layer of craft glue to the first stick at the point where you'd like the second stick to adhere to it.
Press the second popsicle stick onto the glue-covered portion of the first stick. Apply pressure to the joint for ten seconds to ensure that the popsicle sticks will be firmly connected. Wipe up any excess glue that oozes from the joint with a damp paper towel.
Place the sticks onto a solid surface such as a table top and allow the glue to dry.