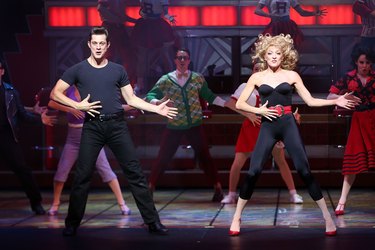 Morticia and Gomez Addams
Both Morticia and Gomez Addams from the movie and TV series, "The Addams Family" dress in black. Morticia sports long, black hair parted in the middle. She wears a long-sleeved black dress fitted tightly at the ankles with long octopus-like arms that trail behind her as she walks. White face-paint and dark shadows on around the eyes, beneath cheeks and jaw-line finish the look. Gomez wears a double-breasted black suit with white-pinstripes. He has a full, black mustache and a quirky grin.
John Lennon and Yoko Ono
Pick up used glasses at a thrift store to replicate John's round-rimmed specs and dark black sunglasses for Yoko. Find a Beatle-cut wig for John and a white pantsuits outfit to match the clothes of his bride Yoko Ono. John wears white pants and turtleneck shirt covered by a white blazer or Nehru jacket. She wears a thick wig of long black hair, a white floppy felt hat, a white blouse tucked into a white miniskirt and white knee-high stockings and tennis shoes. Find a cutout peace sign for Yoko's handbag to affix with with fabric glue.
Sandy and Danny From Grease
Dress up in the costumes from the movie Grease's final dance scene between the couple. Curl and bouffant Sandy's shoulder-length hair, do her up with '50s-style red lipstick and makeup, and dress up in tight-fitting black leggings and corset top. Danny wears all black too: a black T-shirt, black belt and pants. Stiletto red heels on Sandy jive with her thick red tight-fitting belt at her waist.
Hugh Hefner and Playboy Bunny
All Hugh needs is a purple silk robe to wear over a pair of men's pajamas, house slippers and a pipe in hand. His accomplice wears the fitted costume of one of Hef's many Playboy bunnies, a shape-fitting black tank swimsuit with tuxedo bib over pantyhose fitted with high heels on her feet. Don't forget the bunny ears.
Shrek and Fiona
For a couple's costume that takes a little bit of work, make ogre ears and attach them to headbands, or buy them at a costume shop. Paint exposed areas of the body with green, but safe, face paint. Shrek wears a muslin top with a small vest, while Fiona wears a long dress gathered at the waist. Add padding to Shrek's shirt top cinched with a wide belt.
Super Cousins
In the Superman storyline franchise, Supergirl was introduced in the comic book series in 1959 as Superman's biological cousin Kara Zor-El. Supergirl was blonde and blue-eyed, so wear a long blonde wig to portray the character. Both have costumes with a yellow and red S-symbol on a blue body-fitting costume with a red cape.