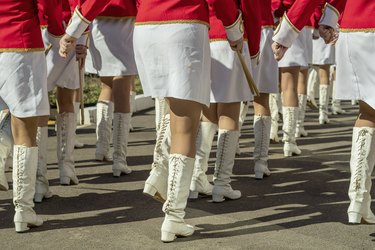 If you are planning to participate in a holiday parade, you may be in the market for some exciting holiday float ideas. There are plenty of inexpensive parade float ideas, with or without lighting. Remember, making a float requires a large investment of time, so be sure to enlist your friends and family to help.
Christmas Parade Float Ideas
The first thing to do when building a float is to come up with a theme. Research if there are any parade entry fees, deadlines, safety requirements and any other rules and regulations for the event. You will also need to plan how to get the float to the parade location. If someone has a pickup truck or other vehicle with towing capabilities, invoke their assistance.
Then, decide what kind of base you will be using for your float. Most people start with flat trailers, but you can also use a boat or pickup truck. Gather your team members together and start to brainstorm float ideas.
There are a number of inexpensive Christmas float ideas, including a nativity theme, gingerbread house, a snowman's winter scene, winter sports, Santa's workshop and an ice castle. Some of the basic float supplies for Christmas parade themes include snow floral sheeting; this comes in rolls and can be used to cover the trailer's surface. You may also want to get or make some artificial snow, trees, candycanes, bells, ribbons, holly, gifts and maybe a sleigh or two. You can even get some stand-up cardboard characters, or you and your group can just dress as Santa, Mrs. Claus, snow princesses, reindeer and elves.
A Lighted Christmas Float
You will surely need a lighted Christmas float if the parade takes place at night, but you may want one during the day, too. After all, the holiday season is all about lights. However, this must be done safely. There are three choices for illuminating the float: you can get power from the vehicle's battery, get a power inverter that converts 12V battery voltage to 120 volts or use a small, gas-powered electric generator.
Since today's LED lights use less power than incandescent bulbs, you can set up a good number of them safely. Check the wattage ratings for your lights, though, and do not overload the fuses or power sources. And, most importantly, check the system to see how long the lights will stay on. You certainly don't want them to all go out during the middle of the parade!
If using an inverter or generator, you'll need to build a platform on the trailer in a hidden area away from any decorations. Secure it in place with eye hooks and straps, keeping it at least one foot from the edge of the trailer. If using an inverter, plug in two extension cords; generators need a splitter in their two outlets, or four extension cords.
Consider using rope lights on Christmas holiday floats. They are usually durable and long lasting, and can be run along the perimeter of the float to highlight the elements on top. Use different colors for more pizazz.
When using directional lights like spotlights, position them inward rather than outward. Otherwise, the light shines out into the audience instead of drawing attention to the float elements. Try using LED and compact fluorescent lights, because they emit less heat. Finally, bring extra bulbs in case any go out.