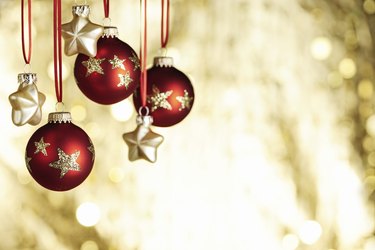 Church Christmas banquets can be a time of feasting and fellowship for the attendees and a nightmare before Christmas for the organizers. Deciding how to plan a church Christmas party - picking a theme, food ideas and a program - can be overwhelming at a time of the year when stress levels are already high. Smart organizers can translate simple ideas into festive evenings by starting early, involving other people, and remembering that we celebrate the birth of the Christ child, who came to bring peace.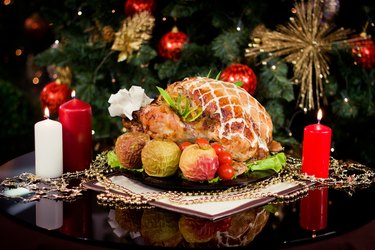 For a formal church Christmas banquet, invite members of the congregation to host a table. They provide place settings using their best china, crystal and silver and centerpieces made from their Christmas decoration collection. For example, an angel collection might be the centerpiece on a sky blue table cloth scattered with silver star-shaped confetti. Offer traditional Christmas ham, turkey or roast beef and plum pudding. Have a youth group serve, and encourage "tipping" as a fundraiser for them. Invite the host to have table mates tell their family Christmas traditions. During dessert, hosts tell one family's tradition to the larger group.
The First Christmas Banquet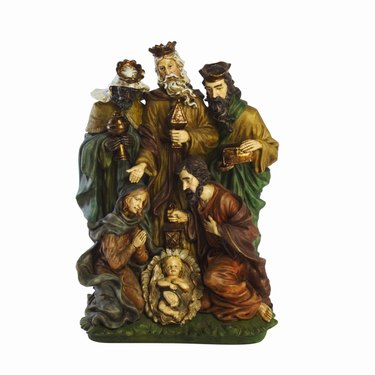 Plan a Nativity banquet as an inexpensive way to involve participants, generate ideas for Christmas dinner decorations, and bring structure to the evening:
Decorate the fellowship hall like a stable, with hay bales, fences, sheep, ox and donkey wood cutouts. Create a manger tableau with a wood manger with a baby Jesus doll and large star hanging from the ceiling made of wood or cardboard, painted silver.
Include food tie-ins such as shepherd's pie, farmer's cheeses, homemade breads and dried fruits brought by families as a gift to the Christ child.
Invite guests to dress as shepherds or angels. Prepare a Mary and Joseph costume of simple light and dark blue robes, and offer these to a young couple with a new baby or have participants nominate a couple that volunteers regularly in the children's department.
Prepare "Three Kings" costumes of different color velvet ponchos and simple crowns purchased from a costume store. Invite people to write the name of someone known for giving on a card and select the top three as the night's "kings." Before dessert, invite the attendees to sing "Away in a Manger" as Mary and Joseph are guided to sit at the manger, followed by the kings.
Finish with "Joy to the World" and a prayer. Words to both hymns can be copied onto place mats.
As the tableau participants return to their seats, serve dessert.
The Banquet Before Christmas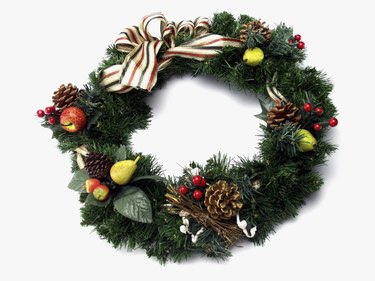 Prepare copies of the poem "The Night Before Christmas" for each table. Break the poem into sections according to the number of tables, assigning one section per table. Instruct participants to re-write their part, adding church elements into the story. The first section, offered by the organizers, might be: "Twas the night before Christmas, and all through our flock, not a deacon was stirring, they all slept like rock. The name tags were hung in the hallway with care, in hopes a new visitor soon would be there!" Decorate the hall in black silhouette cardboard cutouts of a village skyline, with the church's silhouette prominent in the front.
Offer the pastor and spouse "Mama's kerchief" and the "father's cap" to wear, and at the conclusion of dinner, have a volunteer read the completed poem aloud. Include food tie-ins such as red jello ("bowl full of jelly") and sugar cookies with bits of dried plums ("visions of sugarplums"). Make centerpieces of simple wreaths on white iridescent fabric for a snowy appearance.