Welcome a new child into the world by showering the mom-to-be with gifts of love, laughter and lots of good food. The food you serve can go a long way toward making the day one that she will remember forever. Finger foods work really well for baby showers, and they are quite easy to prepare. Serve finger foods as salads, entrees and desserts. Some ideas for finger foods at a baby shower follow.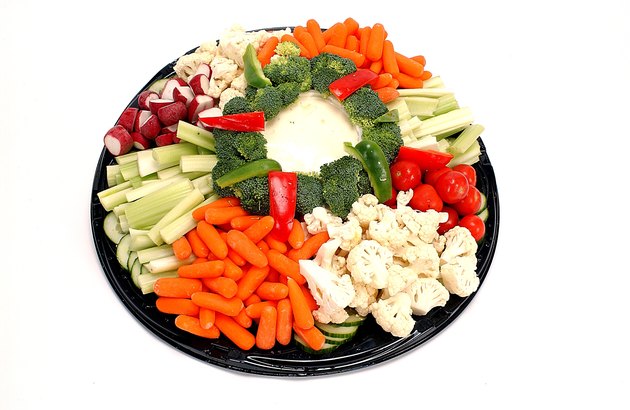 Vegetables and Fruits
Fruit can make an attractive finger food for a baby shower. Make fruit kabobs by arranging on short skewers melon balls, cantaloupe and mango pieces. Serve with a delicious yogurt dip.
Instead of the ordinary raw vegetable platter, look in your local Asian market for some interesting and different vegetables. Make a variety of dipping sauces to complement the vegetables.
Entrees
Everyone expects finger sandwiches or canapes at a party. Serve instead bite-size pieces of sweet and spicy Thai chicken with peanut dipping sauce. Other ideas are mini-eggrolls, pot stickers and tuna sushi rolls served with hot ginger sauce.
Create a tapas table at your baby shower. Stuffed grape leaves and crostini topped with tomato jam and goat cheese make tasty finger foods.
Make wrap sandwiches using different-flavored tortillas and cold cuts, slice into pinwheels and arrange on a tray. Stuff crescent rolls (which can be found as canned crescent roll dough in any market) with shredded chicken, spices and softened cream cheese. Spoon into the wide end of the dough, roll up and bake.
Desserts
Every baby shower has a beautiful cake, so add interesting finger foods alongside the cake, such as a tray of chocolate-covered pralines or cream-filled lady fingers. Provide an assortment of fresh strawberries and raspberries dipped into dark and white chocolate, as well as a platter of pink and blue meringues.