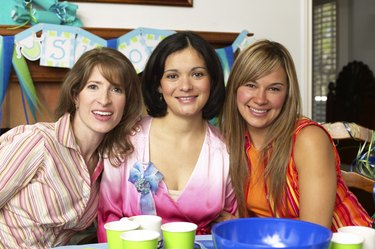 There will sometimes be circumstances in which a baby shower will have to be cancelled or postponed. There are many reasons why a shower may have to be cancelled, particularly considering most baby showers are held towards the end of a pregnancy, when some complications or even premature labor may arise. A mother- to- be may also be put on bed rest due to health problems or health concerns for the baby, and she and the host may feel it necessary to postpone the baby shower. Whatever the reasons, it is important to give the guests as much notice as possible.
Step 1
First, discuss the situation with the mother-to-be and the host of the party to decide whether the shower needs to be cancelled or postponed.
Step 2
Have the host of the baby shower send out a polite and apologetic note cancelling the shower. If there is enough time left to send a note this is the preferred method of communication.
Step 3
Be honest with the guests. For whatever reason the shower has to be cancelled family and friends will completely understand and will be more than willing to offer support. Even if the reason is as simple as the mother-to-be being too overwhelmed, people will understand. Being totally honest is always the best method, however difficult it may be at the time.
Step 4
Ask the guests to donate gifts to their favorite charity in the unfortunate event that the baby shower has to be cancelled entirely and gifts have already been purchased. The parents should send a thank you note to their guests for their kind donation, at a time convenient to them.
Step 5
Send an email if the shower has to be cancelled with a little less notice--a week to 10 days, for example. An email is an acceptable way to communicate the change, with a brief explanation and apology.
Step 6
Make phone calls to ensure that every guest is informed of the cancellation. If the shower is cancelled with very little notice then it is imperative that the hosts--and possibly a small group of friends--pull together to contact everyone in time.
Step 7
Put a positive spin on the postponing of the baby shower, if possible. Rather than just leaving guests with the news that the event has been cancelled let them know that a shower will be held to "welcome home" the baby instead, or that a party will be held later on to which they will be invited.
Tip
Keep open communication between the parents and the hosts, who will be responsible for sending out the cancellation announcement, to make sure they are happy with the wording.