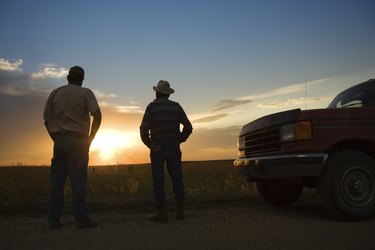 Surprise your guy on Christmas morning by giving him a gift he will love. If your man is a country boy he will probably like receiving a gift that reflects his interest and personality. Country boys like presents that can be used while hunting, completing a "honey-do" list or just hanging around the house. He will also enjoy gifts he can snack on and share with some of his friends.
Flannel Jacket
A plaid flannel jacket makes a good gift for the guy who likes being outdoors. A flannel jacket with padding inside will keep him nice and warm while he hunts and fishes during cold winter month. Plaid or solid color flannel jackets are popular with country boys.
Cowboy Boots
A custom made pair of cowboy boots are an essential element of a country boy's wardrobe. Give your country guy a pair of leather boots made from alligator, cow or even snakeskin. A pair of dress boots with a pair of silver taps on the front are nice gifts for guys. Give him a pair of shoe stretchers to help him break his boots in. Take a pair of your man's shoes to a boot maker. He will be able to make shoes from the shoe's form. Or skip the customization and buy cowboy boots in his size. Just save the receipt in case he needs a special width or an different size.
Heavy Duty Flashlight
Country boys are handy at fixing things. He could use a heavy duty flashlight for investigating problems you may have around the house. Choose a flashlight that is weatherproof and has a large lens. It should be easy to see and have batteries that can be easily changed.
Engraved Gifts
Engraving is a fun way to personalize an otherwise boring gift. Give your country boy a sturdy lighter in a silver case. Have his initials or name engraved on the front of the lighter. Another good engraved gift would be a rugged-looking engraved belt buckle. They come in many shapes like horseshoes and silver dollars.
Smoked Snacks
Tuck some smoked sausage and cheddar cheeses to a gift basket. Include some crackers, spicy mustard and a jar of pickled okra or green beans. Olives and carbonated drinks are good items to put in a gift basket. Smoked beef jerky are good snacks to give for the country boy who likes enjoying something tasty during the holidays. Wrap the basket in cellophane and top it off with a ribbon.