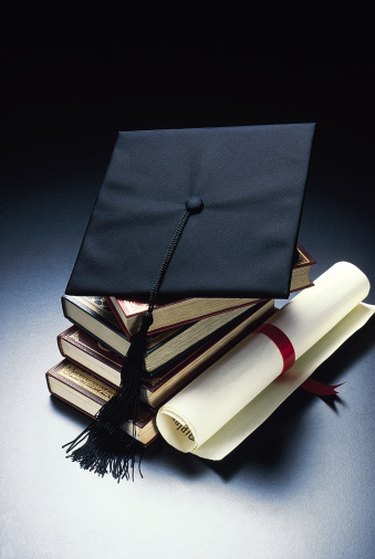 Graduation is an exciting time in life. Whether your loved one is graduating from high school or college, throwing her a party is a great way to show you care. If you plan to host a graduation party, create homemade centerpieces that are thoughtful, decorative and will get guests talking.
Diplomas
Using off-white printer or construction paper from an office supply store, create fake diplomas. Leave them blank inside, or print something entertaining on the inside, if you choose. Roll the paper up and tie it with a ribbon. Use a ribbon that is the same color as the school they have graduated from or the college they will soon attend. Lay the diplomas in the middle of the table or place them inside of a bud vase.
Pictures of the Graduate
Graduation is a big milestone, but one of many in the life of your loved one. Commemorate the other important moments in his life by creating centerpieces from pictures of him. Print kindergarten pictures, childhood photos and prom photos, and place them in frames. Randomly set the frames on tables throughout the space. These pictures will get guests talking and add a sentimental touch to the party.
Books
A surefire hit if your graduate is an avid reader or an English major, this idea involves using old/used books as centerpieces. Purchase old books from a thrift store or used bookstore. Whether you choose a "theme" or just randomly select old books, stack them or line them up in the middle of the party tables. For an added touch, tie the books with raffia or ribbon.
Celebrate Their Next Step
Recognize what her future holds by incorporating career or school plans into the decor. If the graduate is moving from high school to college, use college colors and printed-out pictures of mascots or the school logo attached to popsicle sticks and placed in bud vases. For added color in the vases, buy party beads in school colors and place them in the bottom of the vase. If the party is for a college graduate moving to medical school, fill mason jars with cotton balls, popsicle sticks (tongue depressors) and bandages.